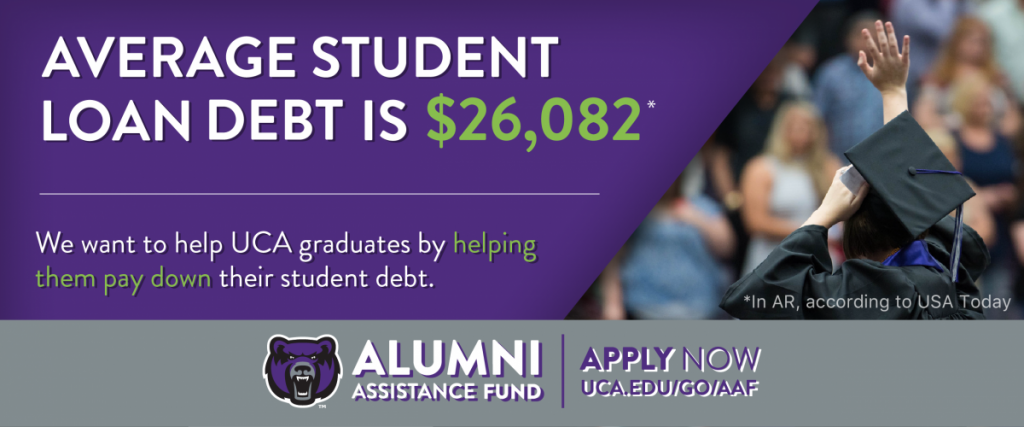 The application period for 2023 opens on March 1, 2023. The deadline is April 15, 2023. For questions, please contact alumni@uca.edu.
Established in 2018 by the UCA Alumni Association Board of Directors, the Alumni Assistance Fund was created to help alumni make payments toward student loan debt as a result of their education from UCA. Every day, UCA graduates are working hard to help others. Now, we want to celebrate their efforts by helping them pay down their student debt. 
The one-time-only awards are for graduates of UCA who are paid members of the UCA Alumni Association. The ideal candidates will have a strong and demonstrable record in both student activity and philanthropic experience. Additional consideration will be given to candidates who serve in civic, public or non-profit roles of employment or are recipients of awards and honors. An essay is required from each candidate, demonstrating the importance of philanthropy/volunteerism and why they are deserving of this award. Letters of recommendation are encouraged but not required.
Conditions: Applicants must provide proof of outstanding student loan debt and income. Awards will be paid by check directly to the recipient's loan provider. The Alumni Scholarship Committee will determine award winners. Incomplete applications will not be considered.
Tax Implications
Please know that part or all of any student loan assistance may be taxable for income tax purposes. You are responsible for all federal, state, and local income taxes owed in connection with any student loan assistance awarded to you. You will need to arrange to have the appropriate tax payments made, as no tax will be withheld on your behalf. If you have questions, you should consult with your accountant or other tax advisors.
Sensitive Information
By applying for this award, you agree to submit all of the necessary application information including financial information that might be deemed as sensitive. With respect to social security numbers, you may redact all numbers with the exception of the last four digits.
The UCA Alumni Assistance Fund Application period is March 1 - April 15.