Since opening in 1966, the Kenda Drive-In has been an integral part of the Marshall community.
Run by Kenda Dearing '86, '92, and her husband, Todd, the theater plays movies each week, but it also hosts family events, concerts and other gatherings.
So, when the business began receiving calls in April from individuals, churches, schools and other organizations about hosting special events, Dearing was ready to help.
"Once people realized that this is for real, and we're going to have to change the way we do some things," Dearing said. "When everything shut down, people started looking for alternatives."
Special events like birthday parties, weddings, concerts, banquets and graduation ceremonies were being postponed or canceled due to COVID-19, and for many, Dearing's business offered a possibility.
"Our goal, in the beginning, was that at some point, we'd be allowed to have a traditional graduation ceremony," said Alan Yarbrough '90, '16, Searcy County School District superintendent. "As the closure continued and the restrictions remained in place, we started looking for alternative ideas on how we can have a graduation for seniors."
Yarbrough worked with teachers and administrators at Marshall High School to host class day, an event held prior to graduation, May 14 and graduation at the drive-in June 11.  
He said Kenda Drive-In was a natural option for several reasons. Dearing graduated from Marshall High and was a 30-year teacher before she retired. Also, the theater is located close to school.
"It's been pretty amazing for me, just being an observer, to see how the drive-in has really been able to fill the void in a lot of aspects for our community," Yarbrough said. 
In addition to Marshall's graduation, Kenda Drive-In has also been the location for the graduation ceremonies of Clinton and Valley Springs High schools, as well as church services and even a wedding. 
"We had a young couple from the Harrison-Bergman area that had a huge wedding planned, and they could not postpone. So they came to us," Dearing said.
The couple's immediate family was allowed to sit outside of their cars, properly distanced from each other. The ceremony was projected to the movie screen, which allowed everyone else to watch from inside their cars. 
"It was a little different, but they got a wedding, and everyone got to see it," Dearing said.
Valley Springs High School hosted its graduation May 18.
"Graduation is a big milestone in the life of a child. We knew we had to figure out a way to celebrate the class of 2020," said Angie Bogle, Valley Springs High School principal. "The day after, I got several emails from parents expressing their appreciation."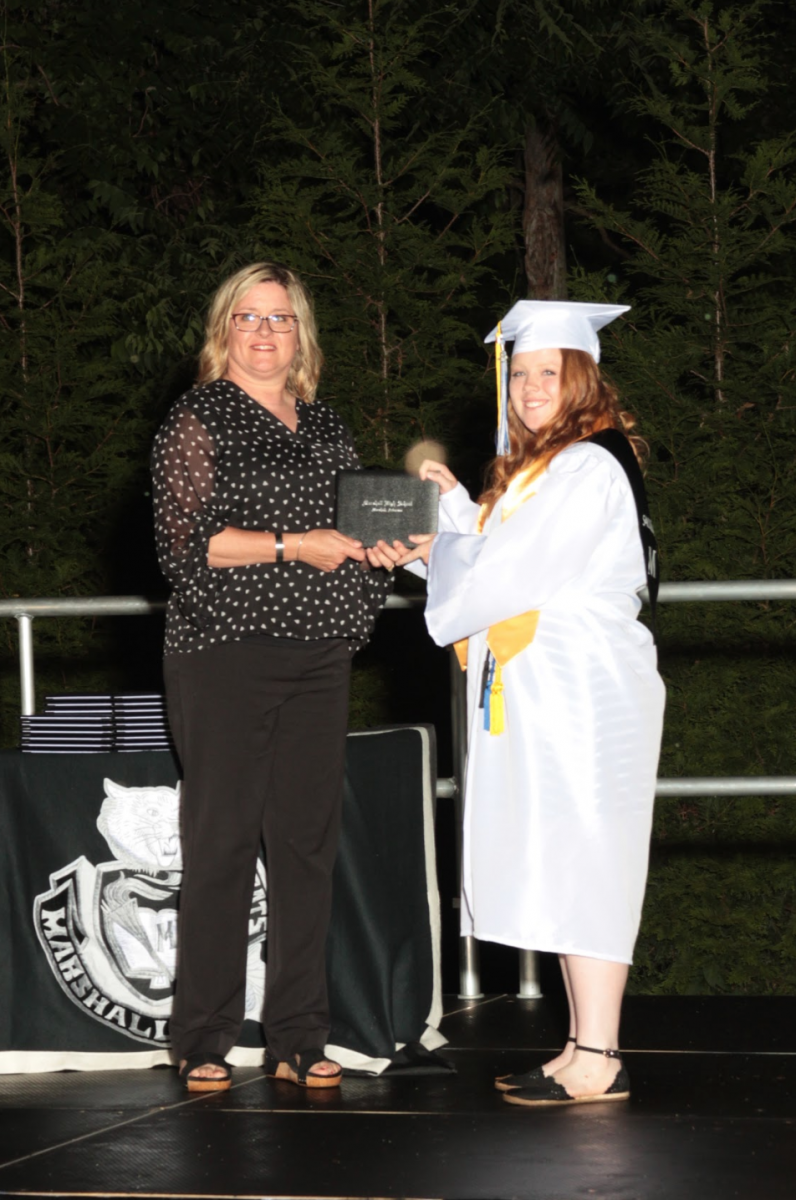 Dearing was great to work with and went above and beyond to make sure the event was perfect, Bogle said. 
Kenda Drive-In shows double features each week. Typically, the drive-in shows at least one of the two movies for a second week, for a total of about 50 to 60 distinct movies a year. Dearing said a Toby Mac concert is scheduled for July 9, with at least two other concerts happening this summer. 
The theater sits on six acres of land and can accommodate about 450 vehicles. She currently operates at approximately one-third of the total capacity, allowing vehicles to sit 18 to 20 feet apart. 
Dearing said she does not expect more graduation ceremony requests from schools, but she is willing to assist if the calls come because it helps to add joy to the lives of others. 
"During our normal times, we do a lot of things that promote community spirit," she said. "Everybody needs a little joy right now. I think maybe more so than normal because these are stressful times."
Learn more about the Kenda Drive-in at kendadrivein.com.