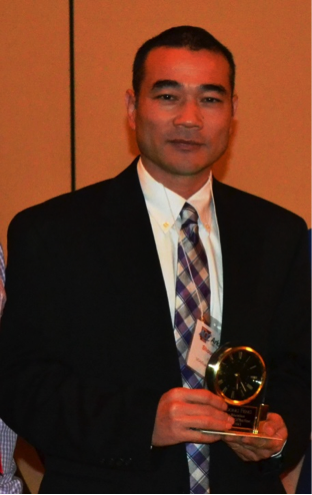 Dr. Shoudong Feng has been named 2013 English Teacher of the Year for College Education by the Arkansas Council of Teachers of English and Language Arts (ACTELA). An affiliate of the National Council of Teachers of English (NCTE), ACTELA is a non-profit professional organization dedicated to celebrating and improving the teaching and learning of English and the language arts at all levels of education.
Since 2004, outstanding English and Language Arts teachers have been identified and honored annually by ACTELA. Judging is conducted by a panel of ACTELA Board members. The panel considers the nominees' lifelong teaching, professionalism, and service, with emphasis on recent achievements.
Feng, an associate professor at the University of Central Arkansas, coordinates the Graduate Reading Program in the Department of Early Childhood and Special Education.
Feng's award was presented at the ACTELA Fall Luncheon in October at Little Rock's Marriott (formerly the Peabody) Hotel. Feng spoke to over 100 teachers at the luncheon, which is held during the annual Arkansas Curriculum Conference.  ACTELA honored Feng with a Barnes & Noble gift card and an engraved clock.