UCA ESOL Institute for Arkansas Teachers 
The University of Central Arkansas was selected as one of the five universities in the state to provide ESOL institutes in 2021. The College of Education at UCA will provide up to 50 current PK-12 educators professional learning to increase their understanding of English for Speakers of Other Languages and prepare them to be teacher leaders for ESOL. UCA will offer educators 12 hours of graduate credit in the required content areas for the ESL Endorsement and will prepare them to pass the ESL Praxis. For the 2021-22 ESOL Institute year only, participants will also receive a full-tuition scholarship for 12 graduate credit hours.
Acceptance to the 2021-22 ESOL Institutes will be limited. Teachers are urged to apply as early as possible. Criteria for selection will include the need for ESOL services in a teacher's school district, as well as the need to balance participation by geographic region of the state, district size, number of EL enrollment, and the applicant's role within the school. In order to qualify for consideration, applicants must be licensed and employed full-time in an Arkansas public or charter school.
The UCA ESOL Institute is a hybrid program consisting of 80 hours of face-to-face or synchronous training, 4 online courses requiring at least 25 additional hours of work per course, 12 graduate credit hours.
The institute will consist of a 6-day summer workshop (virtual synchronous), 4 follow-up academic year workshops (virtual synchronous), and 4 online graduate courses (asynchronous). Those who successfully complete the full program and earn a passing score on Praxis 5362: English to Speakers of Other Languages can receive an ESL Endorsement on their Arkansas Teaching License.
---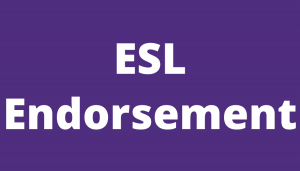 ---
Virtual Synchronous Institute Days at UCA:
June 14-18, June 21
September 18
November 13
January 22
February 5
---
To apply for the UCA ESOL Summer Institute, submit your application http://uca.edu/go/544283
If you are accepted for the institute, you will receive an email with instructions on paying the registration fee ($40), applying to UCA's graduate school, and signing an educator commitment form. To receive graduate credit, you will need to apply to UCA's graduate school and meet all requirements.
All applications will be reviewed after April 30th. All applicants will be notified of their status after April 30th.