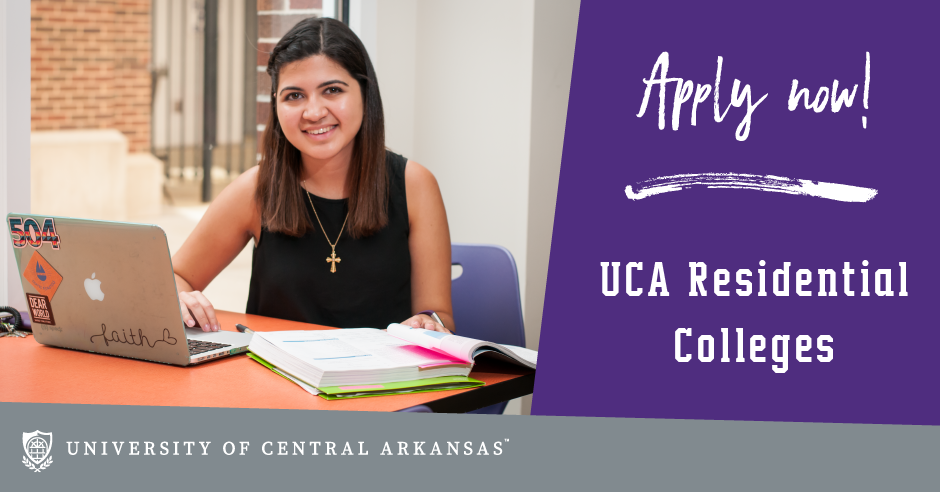 Live Your Curiosity
UCA's

 Residential Colleges provide exclusive experiences, dedicated faculty, and customized classes right where you live.
Before You Apply
Some programs are in very high demand and it is important that you apply for three programs that interest you. Each Residential College is unique in benefits and environments. No one Residential College is your single, best match, so think about which three best fit you and your interests.
Several factors are considered including (but not limited to) your declared major or areas of interest, the answers you give to the application questions, your reasons for wanting particular Residential Colleges, your ACT/SAT scores and your high school GPA.
How to Apply
Your housing application is your Residential College application. You will be asked to select a track: Residential College or Freshman Experience. Select the Residential College track and answer the questions with detail.  Your answers give the Residential College selection committee our first impression of you and are vital tools in deciding which is your best match! After the questions, you'll also be asked a few yes/no follow-ups designed to help us uncover your personalized top Residential College matches.
After You Apply
Watch your cub email for your Residential College acceptance letter on the afternoon of March 9th 2020. Then, select your own roommate from among those accepted into the same Residential College.
Matching Day is Monday, March 9th, 2020!
What is Matching Day?
Matching Day 2020 is the day all applicants to UCA's Residential Colleges find out where they will live their first-year at UCA.

You must apply to be in Residential College. Log on MyUCA using your UCA ID and then follow the instructions at My Housing. Fall 2020 Application opens October 1st 2019.  Residential College Matching Day is Monday, March 9th 2020.
Your Residential College questions for 2020:
1. If you could have dinner with your role model, who would it be and why are they important to you?

2. What are you curious about doing in college? What experiences do you want to have? 

3. American Author Toni Morrison said: "You are not the work you do; you are the person you are." How will college help you become the person you want to be?