New subscriptions for the 2020-21 season will be available July 1.
Check out the Broadway Series Now!
Check out the Pops Series Now!
Check out the Night Out Series Now!
RENEWING SEASON SUBSCRIBERS:   The renewal deadline is June 30th to renew your seats for the new 2020-21 season.  Please call (501) 450-3265 or return your renewal packet via mail.
New subscribers can begin purchasing 20-21 packages July 1.  Click the link of the package you wish to purchase or contact the Box Office at 501-450-3265.  You can choose from the Night Out series, the Broadway series, or the Pops series.  You can also purchase the Performing Arts Package which includes each event in all three series (12 events total), or pick any six events to create your own Pick 6 package (this option is available for those patrons who donate at the Lead Player ($100+) and above). To donate and purchase a Pick 6 package, please contact the Box Office at 501-450-3265.  Patrons may pick any 6 shows to create your own season package, excluding Benefits, Family and Speakers.  If you choose Pick 6, we are not able to guarantee the same seats for every event.  Pick 6 tickets must be purchased through the Box Office and donation must be made at the same time as ticket purchase or in advance.Click here for a full list of all 2020-21 events.
* Please be aware we will monitor and follow state mandated social distancing regulations related to the Covid-19 pandemic.  This could mean that your seat assignments may be moved for any of your ticketed events.
Questions? Call the Reynolds Box Office, (501) 450-3265.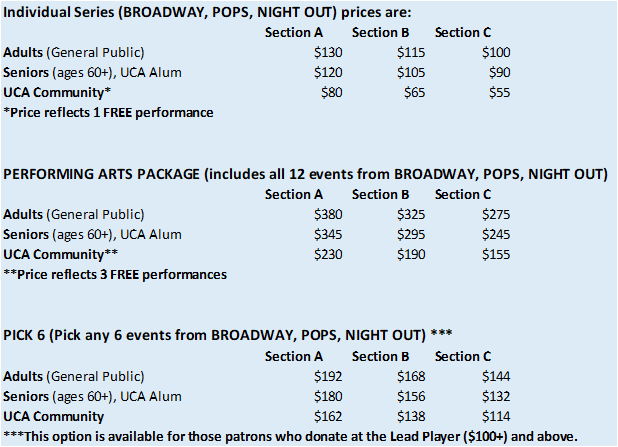 Why Subscribe?
Subscribers get the best seats at the best prices!
When you subscribe to one or more of the UCA Public Appearances series, your favorite seats are guaranteed just for you and you save 25% off the single ticket price!
Being a subscriber means that you will be on the guest list for the annual Debut season announcement reception. You will also have opportunities to meet guest artists and socialize with fellow subscribers.
Subscribers also have an opportunity to purchase single tickets before they go on sale to the general public during Subscriber Courtesy Week, July 27-31, 2020. Your subscription to Reynolds Performance Hall is your ticket to great entertainment and savings!