The University of Central Arkansas Pediatric Physical Therapy Residency Program is a full-time pediatric residency program offered in cooperation with Arkansas Children's Hospital and Allied Therapy and Consulting Services. The UCA Pediatric Residency Program is accredited by the American Board of Physical Therapy Residency and Fellowship Education with the first Program graduates in 2010.  UCA PT Pediatric Residency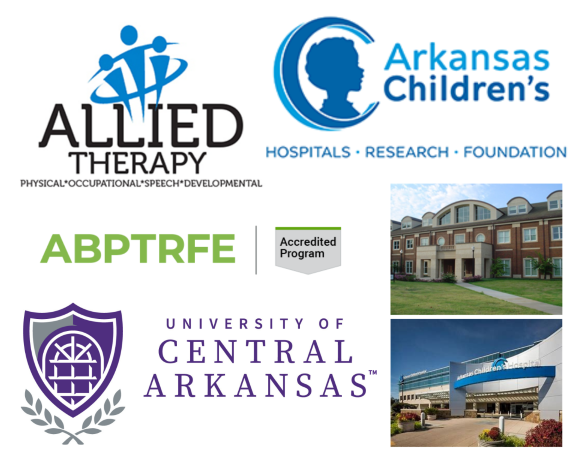 Through clinical and didactic opportunities, residents are provided the opportunity to advance skill and knowledge related to Pediatric Physical Therapy across diverse pediatric settings during the 12 month program. Clinical mentors at each of the participating clinical facilities possess a broad scope of clinical expertise. Academic faculty and clinical mentors include nine ABPTS board certified pediatric specialists across all settings, as well as two ABPTS board certified orthopedic specialists.
Mentored clinical experiences, provided in correlation with guided independent practice and didactic learning opportunities, provide each resident with the opportunity to develop knowledge and skills across the spectrum of pediatric physical therapy. In addition, structured experiences with the Leadership Education in Neurodevelopmental and Related Disabilities (LEND) program enhance resident knowledge of family centered learning.
PROGRAM INFORMATION – click on the links below 
Application and Selection Process
Additional Links:
ABPTRFE–American Board of Physical Therapy and Residency Fellowship Education 
APTA Professional Development – Residency
For More Information, Contact our Program Director:
Misty Booth, PT, DPT
Board-Certified Pediatric Clinical Specialist
Department of Physical Therapy
University of Central Arkansas
Phone: (501) 450-5543
mbooth@uca.edu