UCA Women's Leadership Network is a network created for women, by women, to support women who are seasoned or aspirant leaders in the home, at work or in the community. The purpose of the network is to provide opportunities for women to connect from various backgrounds in Conway.
UCA Women's Leadership Network Presents…
Leading and Living Authentically:
A Spiritual Leadership Luncheon & Workshop
Tuesday, January 23, 2018
11 a.m. – 1:00 p.m.
UCA Brewer-Hegeman Conference Center
---
As leaders, women are often called upon to offer care, consideration, and stability at home, at work, in church and in wider community services. This type of leadership is often taken for granted, but constitutes what we mean by 'spiritual leadership.'
Spiritual Leadership is a practice that helps us to stay grounded and find meaning for personal and community growth. Following bell hooks, noted scholar and community activist, the UCA Women's Leadership Network defines spiritual leadership as a grounding practice that focuses us on our place within the 'beloved community.'
Please join us for a workshop about leading and living authentically and cultivating respect for such leadership skills. Lunch will be served.
Topics Include:
Leading from where you are

Mindfulness and other daily practices

The Balancing Act–Work/Life/Spiritual Balance in the New Year
Guest Speakers:
Dr. Julia Winden-Fey
Director of the Office of Student Success
UCA Instructor for Department of Philosophy and Religion
Shawanna Rodgers
Executive Administrator
True Holiness Saints Center, Conway, Arkansas
Marianne Tettlebaum
Executive Director
Jewish Federation of Arkansas
---
Program Agenda:
11:00 a.m. – Welcome – Dr. Taine Duncan
11:05 a.m. – 11:45 a.m. –  Speaker Introductions and Luncheon
12:00 p.m. – 1:00 p.m. – Breakout Sessions (20 minute rotation)
Leading from where you are – Shawanna Rodgers
Mindfulness and other daily practices – Dr. Julia Winden-Fey
The Balancing Act – Marianne Tettlebaum
---
Mentorship Program
A component of the Women's Leadership Network is mentorship. The network would like to encourage mentorship believing that relationships you develop will become channels for the passage of information, advice, challenges, opportunities and support.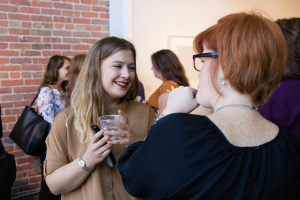 Please note the mentorship program is optional; it is NOT required to be part of the network.
 Responsibilities:
SHARE  knowledge, information, stories of achievement experiences and wisdom

RESPECT each other's time and develop a mutually beneficial relationship

SPONSOR each other by making known the strengths, skills and work to decision makers for the advancement of women in leadership roles

CHALLENGE by presenting new ideas, opportunities and challenges to each other

SUPPORT and encourage growth and achievement by providing an open and supportive environment

SET GOALS to discover your talents and interests and work toward achieving your goals together

MODEL positive behaviors that are consistent with strong women leaders
Participants of the mentorship program must complete the entire program period which is September 2017 – March 2018. Mentors and mentees must commit to spending at least one (1) hour per month together. We will begin accepting applications for the mentorship program in March 2018. If you have questions, please contact Dr. Shaneil Ealy at sealy@uca.edu or 501-450-5275.
 Upcoming Events: 
Women's Leadership Network – Business Showcase
February 28, 2018
6:00 p.m. – 8:30 p.m.
Brewer-Hegeman Conference Center
Registration opens January 2018
Women's Leadership Network at UCA is proud to collaborate with and support other women's groups and programs such as Women in Network-Conway. For more information, please contact Dr. Shaneil Ealy, Assistant Vice President of UCA Outreach & Community Engagement, at sealy@uca.edu or 501-450-5275.