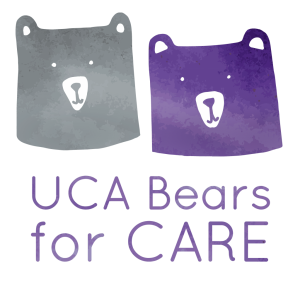 UCA Bears for CARE is a free respite care service program created by the University of Central Arkansas as part of the WE-CARE Network. With the help from our screened and skilled students, faculty and community, we strive to provide a time of leisure for special needs families and a time of excitement and fun for children with special healthcare needs and their siblings.
---
Upcoming Events
Saturday, April 13th, 2019 –

DATE CHANGE
1:00-5:00 pm
Location: Compass Academy
Hosted by the UCA Department of Early Childhood, Literacy, and Special Education
Families with children with special health needs aged 4-18 and siblings aged 4-12 are invited to this event.
REGISTRATION CLOSED

NEW! Bears for Senior Care

Monday, April 8th, 2019 – CANCELLED
1:00-4:00 pm
Location: Brewer-Hegeman Conference Center
The UCA College of Health and Behavioral Sciences is offering an afternoon of respite for caregivers of elderly adults as a new service of the UCA Bears for CARE program. Caregivers of elderly adults are invited to bring their loved ones to this event. The goals of the program are to provide fun and interactive experiences for senior adults with health needs and allow caregivers essential leisure time. UCA students gain an interprofessional education opportunity that will expand knowledge base and enhance future professional behaviors.

Forms for Caregivers
The following forms must be completed in hard copy and brought with participants to the Bears for CARE event. Forms may also bereturned to UCA Outreach & Community Engagement at 201 Donaghey Ave., Conway, AR 72034, or faxed to (501) 450-5277.
---