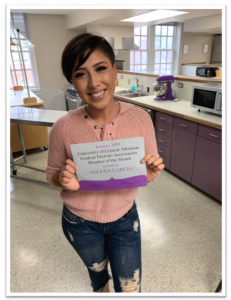 Selena Garcia is a Senior Nutrition major about to complete her final year at UCA. She has been a SDA member for more than a year and comments that she "loves being apart of the SDA team." She previously held the title of Secretary and is now acting as the Public Relations Officer. Outside of school, Selena works at Conway Regional Medical Center as a Clinical Diet Assistant. After graduation, she plans to get her Master of Science in Nutrition and pursue the UCA Dietetic Internship.
Hobbies: Hiking, doing peoples makeup, working out, and drinking coffee.
Congratulations Selena!