Application Review and Scoring. The review of application materials begins in January for incoming freshmen. Once the application, recommendation, admission verification, and transcript data are received, your application will be given consideration by a committee of Honors College faculty and administrators.
---
Step 1.
The first step is to review your academic record and recommendation based on the transcript data you submitted  for admission to UCA. Your prior academic record is worth 50% of your overall score.
ACT=5%
GPA=14%
Class rank=11%
Recommendations=20%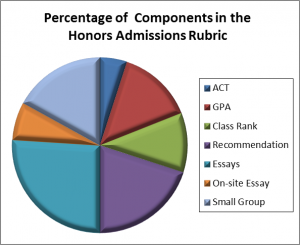 ---
Step 2. In the second step a Schedler Honors College faculty member will read and score the two essays you submitted. Once scored, the faculty member will make a recommendation—based solely on your writing—whether to invite you for an interview. Essays will be scored on the following criteria (26% of the total admission points):
Elbow Essay
Shows understanding of purpose
Shows understanding of main parts of argument
Delineates the primary strengths of the essay
Raises questions and issues related to the essay
Civic Service Essay
Shows understanding of Honors College purpose
Distinguishes self creatively
Distinguishes self academically
Distinguishes self in leadership/service/collaborative work
Mechanics
Coherent sentences and appropriate word choices
Strong paragraphs and sentence variety
Sufficiently addresses the question
Shows reflection on content of lecture
---
Step 3. In the third step the Dean and Associate Dean read every essay as well as review the academic record. Taking into account the faculty member's recommendation as well as the student's overall score, they reach a consensus about whom to invite to interview.
---
Step 4. If you are selected for an interview, you will be part of the fourth step; you and your parents will visit us for an Inform and Interview Day (I2 Day). You will choose from one of two or three dates to be held in February and March. Activities on this day introduce you to our program and provide an inside look at its operation. You and your parents will learn about the academic, residential, and financial opportunities for those admitted to the Schedler Honors College. You will also have a chance to visit with current students about their experiences in the program.
You will listen to a large-group lecture, be asked to complete a quick, on-site writing assignment (7% of the total admission points), and then with three or four other candidates participate in a small-group discussion led by a Schedler Honors College faculty member. This process is modeled after our freshman seminar course (which meets once per week in large group and twice weekly in small group seminars). We aim to give you a good feel for the experience of being in an Honors class. Your participation in the small group discussion will be evaluated (17% of the total admission points) based on the following criteria:
Engagement
Interest
Enthusiasm
Resourcefulness
Adventurousness
Communication
Collaboration
Professionalism
---
Step 5. Once each I2 Day has been held, the faculty will examine scores of all participants and decide whom to invite into the Schedler Honors College, taking into account your scores in each of the categories described above. The evaluation will also generate a rank-ordered waiting list. You will hear from the Schedler Honors College by the middle of March. That notification will make plain whether you are being offered admission, being put on a waiting list, or are no longer being considered for admission. If you are offered admission, you will be asked to confirm your acceptance to the Schedler Honors College no later than April 1.