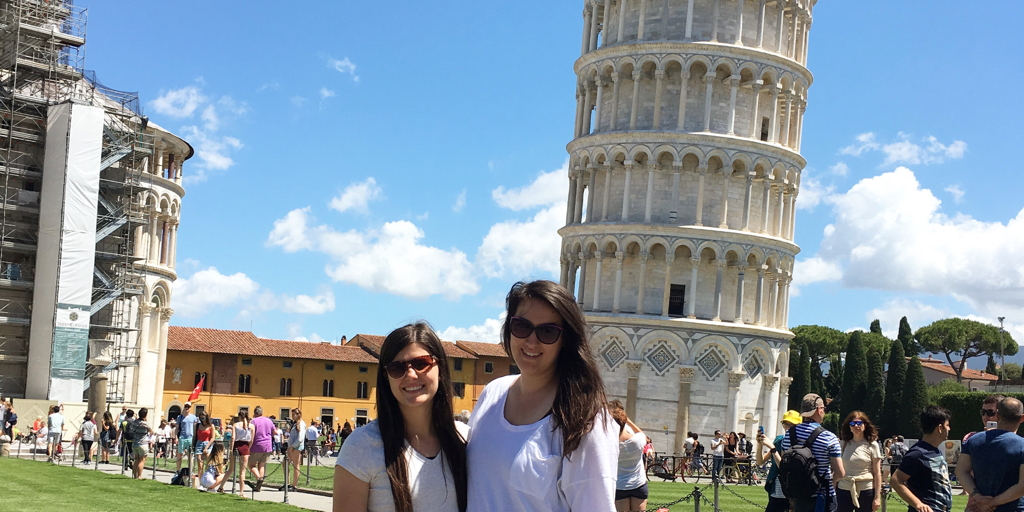 ​Every time you visit a new city it leaves an impression, sometimes the impression is immediate and obvious while other times ambiguous. However, before we get to the story we first have to back track to November of 2015, the moment that set the story in motion. I was applying for a TAG grant from the Norbert O. Schedler's Honors College to be a study abroad student and temporary resident of Florence, Italy. Ever since I was little I'd heard stories of Europe and it's beauty from my dad, a native of Germany, but they were just thirty-year-old stories. So I bit the bullet and applied for a grant to travel to the continent of my heritage.
Now fast forward to June 2016. With a suitcase 1 pound under the weight limit and a backpack full of travel necessities, chiefly my passport and snacks, I was boarding my 1st international flight. After about a day and half of travel I was finally across the pond! Within the first few days of living in Florence I quickly surmised that the stories I grew up on were true, but at the same time it wasn't the same Europe my father had left behind more than thirty years ago. I found myself in a historical city bustling with new construction, renovation, world-renowned museums, and top of the line stores. Florence was a melting pot of old world art and history with touches of modern advancement inside the cobble lined streets.
​Our weekdays leisurely consisted of "class" in the morning, lunch at Panini Toscani, and the afternoon spent wandering the city. Eventually we'd find our way to a supermarket to purchase fresh produce and vegetables for dinner. But the real thrill and adventure of being in Italy happened on the weekends. The most memorable and striking adventure happened my first weekend in Italy.
On our first Friday in Italy our gaggle of 25 students and 3 professors marched into the Santa Maria Novella train terminal. Initially I thought I had stepped backed into the international airport we landed in at Amsterdam. Italians, or at least people who understood the layout of the train station and departure board, were zipping past as Brooke (my roommate and confidante during the trip) and I made sure our backpacks weren't pick pocketed. Police were canvasing all over the station with the recent attacks of Belgium and France still fresh on everyone's mind. In addition to the Polizia, there were the stubble-chinned men, who we nicknamed "our best friends", of the Italian army carrying semi-automatic rifles with triggers at the ready. While taking in all these cultural differences I felt our herd begin moving. I quickly grabbed my pack and sprinted to the platform as the buzzer was ringing for the train doors to shut.
​Three and a half hours and one connecting train later we were pulling into the Dolomites, or the Italian Alps as some call them. It was one of those picturesque scenes out of a movie, ya know the one where everyone crowds the windows to see the view? That was us, 25 American students with noses to the glass oohing and aweing at the snow capped peaks as we pulled into the station in the city of Bolzano. However, stepping off the train I was questioning if I was still in Italy or if we'd magically crossed into Austria or Germany. We had left the colors and style of Tuscany behind and were greeted by alpine culture, crisp mountain air, and the sound of German.
​You might be asking well that doesn't seem too adventurous, and you could be right depending on your definition of adventure. But the true "adventurous" part of the trip came the next day as we took buses and cable cars up into the Dolomites. Most of us followed the professors' lead and went on a two-hour (straight out of the sound of music) hike. Yet somewhere between the two cable cars and bus stop back into town Brooke (my roommate/confidante), Alex (Brooke's boyfriend), and myself lost the herd. Okay so maybe it wasn't magic that we lost the herd, but a stop at a restroom seemed appropriate before a 30-45 minute ride back into town. Imagine our shock when we walked down from the lodge toward the bus stop to see no one from our group. Our first thought was, "oh we must have beat them here." We quickly realized as we all got texts from our roommates asking if we made the bus that this was most definitely not the scenario which was occurring.
​So there we stood, and while none of us would admit it to the other we all had some small twinge of fear down in our gut. We tried to read the bus schedule that was conveniently written in German, a language we had not prepared to decipher and Google Translate offered little help. From guestimation it seemed the next bus would arrive in about 15 minutes. Fifteen minutes came and went, and even though several buses drove past none of them were bound for Bolzano. So there we sat, each with 3.50 euro ready for fare evaluating our options. We knew the buses stopped running around 7:00 p.m. so we hatched a plan: catch any bus that was heading down hill regardless of destination. Around 6:30 a bus was coming down the hill. The driver pulled over and opened his doors, and in our best Italian we asked, "Bolzano autostazione?" We were answered with a firm "Bozen." Bozen? What the heck was Bozen? Given our circumstance, arguing was not in our favor so we paid our fair and walked to the back of the bus praying that we had made a halfway intelligent decision.
​As the bus rolled down the hill we began seeing some of the same towns we had passed that morning. A definite sign of comfort, but we still had no idea if we'd picked the right bus. The bus started rolling into what looked like the edges of Bolzano, but our stroke of luck was confirmed when we saw out the window our hostel! I jumped up and rang for a stop, I'm sure the driver was surprised that this crazy American knew where she was going. After confirming our arrival with the professors, Alex, Brooke, and I went out for celebratory kebabs.
​While this is one of many adventures I had in Italy, it seems the most telling. Similar to the class environment I've experienced at the Norbert O. Schedler Honors College: I was presented with a problem or issue, I had tools and resources to attack the problem, and ultimately I came to a solution or deeper understanding. Forcing myself outside of what was comfortable allowed me to become a more culturally diverse global citizen. Italia taught me many things like how San Giovanni Battista day is the Florentine Memorial day, or that the Renaissance was shaped by the ninja turtles: Donatello, Michelangelo, Raphael, and Leonardo. Yet the most important thing I learned from Italia was to enjoy the journey. It may be long or short, difficult or easy, but it usually only happens once so enjoy the ride.