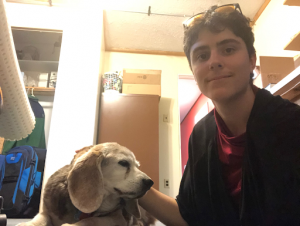 My work this summer learning to write humorous stories for performance fit with my goal of building a skill I could use for Honors events.  I  ended up performing one polished piece at our sophomore retreat and another one for a move-in open mic night.  I suspect using pieces of this style will make my future presentations more engaging, and I feel comfortable enough with the new style to try integrating it into assignments. 
In order to improve my writing and concentration of humor, I had to share my work verbally with more than just my deaf dog (see picture).  Suddenly, the family gatherings I usually dreaded became opportunities to test material.  With my improved attitude and humorous pre-written lines to slip into conversation, I found myself actually enjoying them and not getting in trouble for discussing my homosexuality, gender experiences, or autism!  In addition to writing, I wanted the Honors Junior Seminar course "Experiential Learning" to help me navigate and communicate with the world around me, and I'd say thriving at a family gathering is a sign I met this goal.  I'll just have to see if I can carry these skills over to interacting with peers at school.
 As a result of working on the project, I also began to follow The Yarn radio show's Facebook page and am looking forward to attending a live performance.  I wish I would have known about them sooner so I could have written that into my original Experiential Learning plan, but I'm glad to know about them now.  Sharing a story with them will be another post-class goal to consider.