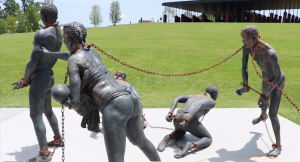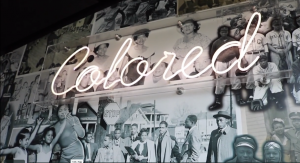 In the summer of 2018, along with two other students, I was invited on a week-long civil rights era themed trip. I was filled with anticipation and excitement at the opportunity to experience my ancestors' history firsthand. Throughout my high school career, I had buried myself in civil rights research and history in an earnest attempt to understand the plight of our nation.
The trip would consist of us visiting Atlanta, GA, Montgomery, AL, and Washington D.C. These cities were incredible, and driving through them, it was easy to see how the civil rights era had impacted them. Our first civil rights location in Atlanta was the Museum of Civil and Human Rights. It was an incredible sight. The beautiful interior had a masterful layout that took the viewer from an outsider perspective to a very intimate one. The museum also hosted an immersion audio experience in which you could see what it would have been/felt like to be an activist during a sit in. In the experience, you would sit on automated bar stools and place your hands flat on the counter in front of you. The headphones you were supposed to put on would play audio recorded specifically for your experience. The sound was such high quality that it felt as if I were sitting at a real lunch counter. It is recommended to keep your eyes closed during the experience to make it feel more personal. It was incredibly difficult not to cry during and after the experience. The audio experiment is such a unique way to deliver an impactful, historical lesson that I believe everyone should experience it at some point. It was a means of making our history feel real and too close for comfort.
Afterward, we journeyed to Montgomery, AL. We visited the Equal Justice Initiative's memorial site and museum and were profoundly touched. As I was recording a documentary for my junior seminar course, I was not allowed to film in certain locations and had no desire to film in such sensitive areas. As we slowly made our way through the lynching memorial, it was haunting and truly disturbing to view the thousands of names written into stone of those who were murdered in the worst way possible. A haunting phrase that followed me through the site was that we would never know the thousands of names of those who were lost to racial hate crimes. These deaths were not only hundreds of years ago, but also frighteningly close to our modern day. Justice is a resource that is much too valuable and necessary to daily life and sadly it is only reserved for a few. Justice will never be given to those whose names are lost in time.
Montgomery was also amazing to me in that this museum and memorial were funded and supported by the Equal Justice Initiative. A legal group comprised of attorneys and other social servants who wish to serve those that our justice system has abandoned. While many, many men of color and not given a fair trial and unreasonably given the death penalty, these lawyers will help at no charge to the people in question or their families. This was amazing to me as it coincides exactly with the reason I want to go to law school for. As an attorney I hope to specialize in indigent criminal law and immigration law, helping families who may not be able to afford legal help at no cost. I am trying to intern at the Equal Justice Initiative next Summer, in the hopes to work under Bryan Stevenson, the attorney who founded the organization.
Our final destination was Washington D.C.. We visited the newest Smithsonian and were so lucky to have even been able to get in, the museum was booked out 6 months in advance! The experience was amazing and well worth the long wait in line. The Museum of African American History was truly revelatory in telling the history of blackness in America. If you tour the museum in chronological order, you will go from the sugar trade all the way to Outkast and Kendrick Lamar. What made the museum so amazing was that it not only celebrated our history, but our culture that was manifested from such history. It is a very surreal feeling to look in the display glass at artist's clothes and records that you still listen to today.
Overall, the entire trip made me feel incredibly thankful to have been born black and Hispanic. While our history is almost unbearably painful and marred with the anguish of those we have lost on our way to get to where we are now, we must always realize that our work is never done. Instead of feeling a bit hopeless as I did before I went on this trip, I know feel hopeful for the social future of America. It is up to the youth to maintain the passion and vigor our social activist forefathers did, and to never take things for granted. When we become comfortable where we are, we start going backwards and that is something we can never allow. This trip put me back into contact with what we can do every day to ensure change. We must be rational, strategic, loyal, and energized in our fight for complete equality. Most importantly, we must never forget to love one another, and it is through love that the most hardened of hearts are touched.