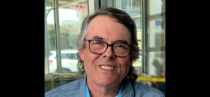 Dr. Brooks Pearson
Associate Professor
Lewis Science Center, Room 105C
(501) 450-5639
Address:
201 Donaghey Avenue
Department of Geography
University of Central Arkansas
Conway, AR 72035
Office: LSC 105C
Office Phone: 501-450-5639
Department Phone: 501-450-3164
FAX: 501-852-2926
E-mail: bpearson@uca.edu
Areas of Interest
Geospatial Technology and Accuracy of Historical Maps
Historical Cartography
Geospatial Techniques
Courses
Remote Sensing
Quantitative Methods in Geography
Education
Ph.D. Indiana University, 1999
M.A. Kansas State University, 1996
B.S. Middle Tennessee State University, 1992
Publications

2012.  "Deconstructing Galbraith: A Geostatistical Analysis of Cartographic Intent."  The Cartographic Journal  49 (3): 218-33.
2005 "Comparative Accuracy in Four Civil War Maps of the Shenandoah Valley: A GIS Analysis." Professional Geographer Vol. 57, No. 3: 376-394.
2005 "James W. Abert: Kentucky Scientist and Topographical Engineer." Journal of the Kentucky Academy of Sciences. Vol. 66, No. 1: 2 – 16.
2004 "Civil War Topographical Engineering in the Shenandoah." Cartographic Perspectives Vol 49 (Fall): 40-63, 84-88.
2002 With S. C. Pryor. "Reevaluating Latent Ethanol Production Potential." In S.K. Majumdar, E.W. Miller, and A.I. Panah, eds. Renewable Energy: Trends and Prospects. Easton: Pennsylvania Academy of Sciences.
2001 "Assessing the Accuracy of the Military Maps of Jedediah Hotchkiss." Proceedings of the 20th International Cartographic Conference. Vol. 2 Beijing: ICC.
2001 "Alexander Dallas Bache and Jedediah Hotchkiss: Mapping Virginia During the American Civil War." Western Association of Map Libraries Information Bulletin. Vol. 32 No. 3: 179 – 188.
1998 "Analysis, Construction, and Evaluation of Particle emission Inventories." Appendix E in R.J. Barthelmie and S. C. Pryor, Extension and Application of the ISOPART Model. Environment Canada Awrd #KM759-7-4804. Bloomington: Indiana University Geography Department.
1998 "Tracing the Settlement of Indiana Through Antique Maps." J. E. Oliver, ed. Renaissance in th Heartland: The Indiana Experience-Images and Encounters. Pathways in Geography Series No. 20. Indiana, PA: National Council for Geographic Education, 39-44.
1997 "Eighteenth and Nineteenth Century Welsh Migration to the United States." Pennsylvania Geographer. Summer.
1995 With J.T. Sheeley. "The Tony Tiger Technique for Processing TIGER Files." Proceedings of GIS/LIS Vol. 2. 824-829.
Published Maps
2004 "British Africa in 1914," "British Imperial South Asia," "Colonial Africa in 1891," Location of Case Study Sites," "New Zealand Maori Greenstone Locations." In W. Schaniel, et al. Societies, Institutions, Economics, and Change. New York: Routledge.
2000 "Risk Zones for Ocean Isle Beach," Risk Zones for North Nag's Head," Risk Zones for South Nag's Head," Risk Zones for East Atlantic Beach," "Risk Zones for West Atlantic Beach," "Risk Zones for North Topsail Beach," "Risk Zones for Kure Beach and Carolina Beach." North Carolina Coastal Risk Map Series, North Carolina Division of Emergency Management.
Reviews
2007 A. Gordon and B. Klein, eds. Literature, Mapping, and the Politics of Space in Early Modern Britain. Cartographic Perspectives Vol. 56 (Winter): 56-57.
2006 J. Krygier and D. Wood. Making Maps: A Visual Guide to Map Design for GIS. Choice Magazine 43-6279.
2006 M. Monmonier. Rhumb Lines and Map Wars: A Social History of the Mercator Projection. The Geographical Review Vol. 95, No. 2.
2006 P. Whitfield. Cities of the World: A History in Maps. Choice Magazine 44-0479.
2006 M.D. Smith. Realms of Gold: Catalogue of Maps in the Library of the American Philosophical Society. Choice Magazine 43-4820.
2003 L. J.C. Ma and C. Carier. The Chinese Diaspora: Space, Place, Mobility, and Identity. Choice Magazine Vol. 41. No. 1: 41-0633.
2003 Geoexplorer Internet Resource. Choice Magazine Vol. 40, No. 10: 40-5936
2002 J. Sheail. An Environmental History of Twentieth-Century Britain. Choice Magazine Vol 30, No. 4: 40-2401.
2002 N.R. Kline. Maps of Medieval Thought: The Hereford Paradigm. Choice Magazine Vol. 40, No. 1: 40-0529.
2002 L. Dick. Muskox Land: Ellesmere Island in the Age of Contact. Choice Magazine Vol. 40, No 1: 40-0370.
2002 United Nations Centre for Human Settlements. Cities in a Globalizing World: Global Report on Human Settlements. Choice Magazine Vol. 39, No. 10: 39-6118
2002 F. Fernandez-Armesto. Civilizations: Culture, Ambition, and the Transformation of Nature. Choice Magazine Vol. 39, No. 9: 39-5323.
2001 P. Rebert. La Gran Linea: Mapping the United States – Mexico Boundary, 1849 – 1857. Choice Magazine Vol. 39, No. 3: 39-1721.
2001 L. Hostetler. Qing Colonial Enterprise: Ethnography and Cartography in Early Modern China. Choice Magazine Vol. 39, No. 3: 39-1730.