Do's, Don'ts, and Donuts with Career Services! – 9:00-10:00am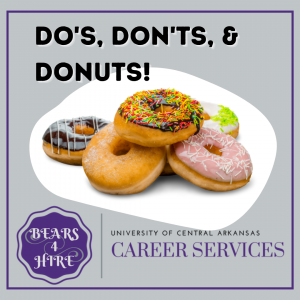 UCA Career Services wants our bears to graduate career ready! Join this session to learn how to build your career readiness by making the most of your opportunities here at UCA. Your career experiences can begin early with on-campus student employment. Whether or not you attended the student employment fair on Tuesday, attend "Do's, Don't, and Donuts" to get more information on how to land the jobs and begin working this semester.
Career Services will provide donuts and coffee to students in attendance while supplies last.
Get Up, Get Out, and Get Involved! – 10:30-11:30am
Getting involved on campus is such an important part of the college experience, but sometimes it's hard to know how to get started. We can help! With almost 200 RSOs (Recognized Student Organizations) and countless campus events, you're sure to find a place at UCA! The Student Life team is here to help you learn more about involvement opportunities and how to take your first steps to join groups or attend events. During this session you'll learn about the various ways to get involved and get an overview of how to use CubConnect, our engagement platform, to find events and organizations that are right for you.
Sponsored by Student Life
What's Your Relational Self Esteem? – 12:30-1:30pm
Do you feel worthy of love, comfortable with who you are, desirable and sexually competent? These are some factors that lead to a healthy and rich emotional and sexual experience. Take this time to talk about your sexuality and your readiness for emotional and physical intimacy. *This session is for students identifying as a female.*
Sponsored by the Counseling Center
Conway Daze – 2:00-5:00pm

MOVED TO HPER CENTER
Come see what your new home has to offer and see how you can get involved on campus and in the community. There will be over 150 student organizations, UCA departments and local Conway businesses on hand to show you what they have to offer! If you are a looking for a job at a local business, check out the section with employers who are currently hiring!
Introduction to Blackboard and Campus Tech – 3:30-4:30pm
Blackboard is UCA's virtual course management system used by many of your professors. Gain hands-on experience for navigating Blackboard before your first assignment! IT will also review campus technology, connectivity, and software. Seating limited. This session is repeated on Sunday and Tuesday. Bring a laptop (or at least your phone) so you can follow along.
Sponsored by the Tutoring Center
UCA Football Pep Rally & Scrimmage – 6:00pm

Estes Stadium (football field) – Student Section is on the visitor side, closes to Bear Hall.
Be a part of the tradition! Join one of the largest student organizations on campus, The Bear Den, along with the UCA Band, Cheer and Dance Teams as we cheer on our UCA football team while learning all our traditional UCA Bear chants and game day rituals.
Sponsored by The Bear Den and UCA Athletics.
Rock the Lawn – 8:00-10:00pm
Inflatable obstacle courses, DJ, food, and many more activities at the closing ceremony of Welcome Week. The coveted Battle of the Halls trophy will be presented!
Sponsored by the Resident Housing Association