Welcome to UCA BeWell
At UCA, we believe healthy and happy employees drive student success. The university is committed to helping employees thrive in the workplace and at home by providing resources and incentives to encourage faculty and staff to lead a healthy lifestyle.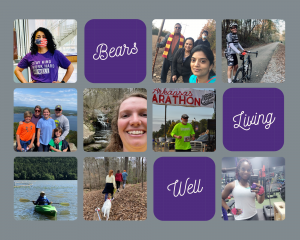 BeWell is UCA's employee wellness program. It is a voluntary program available to all benefits-eligible employees and retirees enrolled in UCA's health insurance. Employees who meet the eligibility requirements can qualify for a discount on health insurance premiums and earn BearBucks.
Components of the UCA BeWell program:
• Biometric Screening
• Health Risk Assessment Survey
• Lifestyle Rewards (logging healthy habits and activities)
• Resources and Encouragement for Healthy Living
The annual BeWell cycle is November 1 to October 31. All participation components must be completed and submitted by the October 31 deadline.
Ready to BeWell? Visit BeWell Program Overview for details and get started by creating a MyHealthCheck360 account.