By Alex Kanode
On January 13th, the ALC Occupational Licensing Review Subcommittee met to discuss their recommendations from the December meeting and bring forward more recommendations.  The subcommittee is tasked by law with determining and implementing the least restrictive form of occupational authorization to protect consumers from significant and substantiated harms to public health and safety. Legislators discussed potential recommendations to licenses for acupuncturists, sprinkler fitters, auctioneers, and radiologic technologists. Presentations were also made by the Professional Bail Bondsman Licensing Board and the Arkansas Motor Vehicle Commission.
The three major recommendations by Rep. Richard Womack (R-18) were to make acupuncture licensing optional, delicense sprinkler fitters, and change all radiation control licenses to certification. A recommendation to change auctioneers licenses to certifications was sent to the board, but rescinded at the meeting.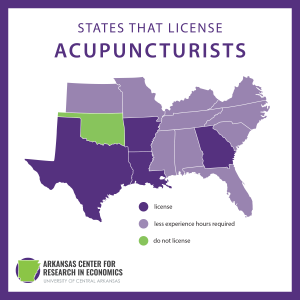 Rep. Womack submitted the recommendation to make licensing optional. In order to learn more about it, representatives of the Arkansas State Board of Acupuncture and Related Techniques (ASBART) were called forward. They submitted a document to answer questions that the ASBART board had at the last meeting, including how many states license acupuncturists, whether there were any cases of serious harm from unlicensed acupuncturists, and whether there was a trained/untrained comparison for complaints. 
The ASBART board found that three states didn't have acupuncture licensure. Alabama required a practitioner to either be a licensed doctor or chiropractor before practicing acupuncture. South Dakota currently has a certification for chiropractors to practice acupuncture.
The board found 16 cases of serious injury in the US from acupuncture since 2012, including 11 cases of lung puncture, 3 spinal cord injuries, one infection, and one case of serious nerve damage. There were no reported cases of death from acupuncture in the US, but the board did find one case in China.
In the meeting, Vice President of ASBART Jana Brady claimed that unlicensed acupuncturists wouldn't be able to qualify for insurance or buy the regulated needles, and so making the license optional would actually harm the acupuncture market. 
Optional licensing is an alternative that would allow practitioners who need it to have it but also be a less restrictive form of authorization that meets the state's requirements. If it is in an acupuncturist's best interest economically to be licensed, they still will have the option to do so under this recommendation.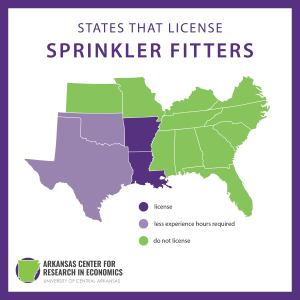 Rep. Womack submitted the recommendation to delicense sprinkler fitters. When discussing the delicensure of sprinkler fitters, Arkansas Fire Marshals came and spoke about the prospect of unlicensed sprinkler fitters. They said that poorly installed sprinklers would not work when you need them the most. They also discussed how the plans are overseen by sprinkler contractors/Responsible Managing Employees and the sprinklers are tested by inspectors at the end of production. While having working sprinklers is a serious public safety issue, the board must show that this is the least restrictive form of occupational authorization to protect consumers. They have not proven this, especially considering that sprinkler fitters are also covered by licensed sprinkler contractors, licensed responsible managing employees, and licensed sprinkler inspectors.
Radiologic Technologists
Rep. Womack also recommended that the Department of Health, Radiation Control Section change all authorizations into certifications. Certifications and licenses have the same exact requirements to earn them, but the difference is certifications are required. Arkansas already has 326 Arkansans operating radiation equipment without any formal or clinical training. The Radiologic Technology licensure program licenses 4,696 Arkansans total.
Licensed Technologist Licenses (LTL) are no longer offered for new applicants, but they are for people who went through on the job training and applied for the grandfather provision of Act 1071 of Arkansas' 82nd General Assembly before the deadline. Grandfather provisions of licensing bills allows those who were already practicing before a license was created to continue to practice without needing the training everyone else is required to take.
These practitioners have been working for over 20 years since the grandfather deadline was July of 2000. Legislators have been given a great case study to compare those with required training to those who were grandfathered in. How many complaints have LTL's had since the rule was created? Without evidence of significant and substantiated harms from unlicensed radiographers, licensure is clearly not the least restrictive form of occupational authorization to protect consumers.
The subcommittee has not yet voted on any recommendation.  
The Occupational Licensing Review Subcommittee on February 18th will bring forward recommendations for the Arkansas Professional Bail Bondsman Licensing Board and the Arkansas Motor Vehicle Commission. They'll also have the Arkansas Department of Environmental Quality; Office of Air Quality; Asbestos Division discuss their licenses before the subcommittee.
For more: