By Alex Kanode
Occupational licensing has increased dramatically in the past 70 years. In the 1950s, only 5% of the US workforce had to have a license before they could work, while today 25% have a license. Occupational licensing is when the government sets a list of requirements, such as education, experience and fees, that a person must meet before they're allowed to work in a specific field. Many studies have shown that licensing increases prices and has a disparate impact on ethnic minorities and military spouses. ACRE Affiliate Marc Kilmer wrote at length about reforms happening across the country in the recent report, Occupational Licensing Reform Across the United States.
Arkansas legislators have also been working towards improving this situation for workers. The 2019 legislature passed a bill creating the ALC Occupational Licensing Review Subcommittee. The subcommittee's role is to examine and improve licensing in Arkansas.
The first two meetings were administrative as they set up the framework for examining licensing in Arkansas. The November 12th, 2019 meeting was the first meeting where the subcommittee actually looked at two boards, the Arkansas State Board of Acupuncture and Related Techniques and the Arkansas Fire Protection Licensing Board. On December 18th we heard the first recommendations from legislators.
Members brought forward two ideas that they will consider before making recommendations to the legislature in the 2021 session. The first was to make acupuncture licensing optional. This would change the license into a certification. Both licensure and certification can have the same kinds of requirements, from education to fees. The key defining difference between a certification and a license is that it's optional. The second idea brought forth was to delicense sprinkler fitters.
Moving Away From Acupuncture Licensure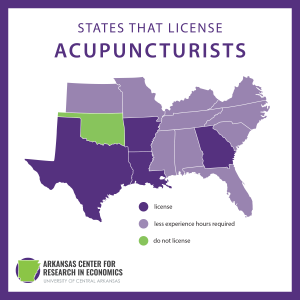 Representative Richard Womack (R-18) submitted both recommendations to the subcommittee. However, Representative John Payton (R-64) was the one who presented at the subcommittee hearing, since Womack was absent. Womack recommended making acupuncture licenses optional. The arguments were that the acupuncture board only had 37 practitioners and Oklahoma didn't license acupuncturists.
Payton also said that the Board of Acupuncture and Related Techniques received very few complaints, and those complaints were all turf wars between acupuncturists. After some push back on his definition of turf, Payton said:
In my conversation with Representative Womack…the only complaint that the board had handled had been a complaint that someone was operating without a license. And from sitting on the Auctioneers Licensing Board, I know many times that is basically two competitors trying to get each other trouble."
According to the National Certification Commission for Acupuncture and Oriental Medicine (NCCAOM), 3 states don't license acupuncture: Alabama, South Dakota, and Oklahoma. But 2 of the 3 states that don't have an acupuncturist license actually have MORE restrictive laws. In Alabama and South Dakota, you have to be a chiropractor or a doctor to practice acupuncture.
If the subcommittee passes this recommendation, they should make sure that the result isn't to make it more difficult to become an acupuncturist.
Senator Cecile Bledsoe (R-3) spoke against the bill, saying "acupuncturists are dealing with blood, which doesn't seem to be a very safe thing" and "when you're working with people and it's an issue with blood…they definitely need that license." Representative Vivian Flowers (D-17) spoke about her own experience as a patient of acupuncture, saying "it was effective for what I needed it for, but it was also a little bit scary…there's also a very serious threat of nerve damage."
If the health concern is handling of blood and needles, they can require acupuncturists to only use disposable needles and do facility inspections. If that's not enough, the Council of Colleges of Acupuncture and Oriental Medicine offers a 1 day clean needle technique course for $175. In the CNT course manual, there are sections on the prevention of rare but serious adverse events, including central nervous system injury. Reducing the education requirements from 4 years to 1 day will save time and money.
Delicensing Sprinkler Fitters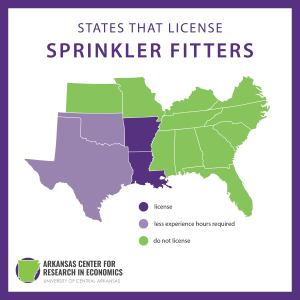 Womack also recommended "the repeal of occupational authorization, or licensure" of sprinkler fitters. Payton said 11 of the 14 states in Arkansas' economic region do not license this occupation, including neighboring Tennessee, Mississippi, and Missouri. Payton said that the contractor's board already licenses sprinkler contractors, who are responsible for hiring sprinkler fitters. If we already license sprinkler contractors, licensing sprinkler fitters is "double licensure". The requirements and responsibilities of the sprinkler contractors still protect the public.
Representative Bruce Cozart (R-24) pushed back against this, saying he asked the State Fire Marshal's Office for their opinion. They claimed that "some of those fitters do work for different contractors, they don't always work just for the same contractor but they sometimes move around. So, that lets that contractor know people are qualified and licensed."
Contractors in 21 other states find high quality sprinkler fitters without these requirements and Arkansas contractors could as well. They have other, less burdensome tools like referrals, recommendations, private certifications such as this one from the National Fire Protection Association. The public's health and safety can be protected without a license.
Both of these recommendations were voted for further consideration and debate, but they won't come up for vote to support as bills until late 2020.
Next Meeting
The subcommittee is next scheduled to meet on January 13, 2020, where they will bring forward recommendations on the Arkansas Auctioneers Licensing Board and the Department of Health- Radiation Control Section. They will also examine the Arkansas Bail Bondsman Board and the Arkansas Motor Vehicle Commission.