By Alex Kanode
Occupational licensing has been an increasingly hot topic across the US, and Arkansas is no exception. A 2018 report from the Occupational Licensing Advisory Group stated that Arkansas had a whopping 310 licenses, 51 certificates, and 35 registrations. 
In order to evaluate these occupations, the 2019 Arkansas Legislature passed Act 600, which created a sunset review subcommittee. This subcommittee will evaluate a few licenses every month to determine if they are protecting the public in the least burdensome way.
This license by license process allows legislators to talk about solutions for specific occupations, instead of trying to pass a one-size-fits-all bill. What's good for contractors isn't good for doctors, and reforms should reflect that.
The first date for review is today. The subcommittee will be examining two boards: the Arkansas State Board of Acupuncture and Related Techniques and the Arkansas Fire Protection Licensing Board. The State Board of Acupuncture licenses acupuncturists, while the Fire Protection Licensing Board licenses hydrostatic testing technicians, fire sprinkler inspectors, fire sprinkler responsible managing employees, fixed fire protection system technicians, portable fire extinguisher technicians, and sprinkler fitters. 
Protection from dirty needles and fires are both serious health and safety concerns. However, there are still ways to reduce burdens in these industries. We looked at two of the eight licenses overseen by these boards: Acupuncturists and Sprinkler Fitters. We compared them to other states to see where Arkansas ranked.
49 states license acupuncturists, with only nearby Oklahoma not licensing them. Alabama and Nevada technically don't have licenses either. But they actually require you to become a chiropractor or doctor in order to practice, so the requirements are still there in everything but name. When comparing Arkansas' requirements with the average of the southeast region of the US, Arkansas has higher yearly renewal fees and experience hours, but does have lower initial fees and continuing education hours.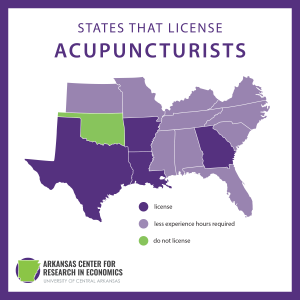 29 states license sprinkler fitters, with only Texas, Oklahoma, and Louisiana licensing these occupations nearby. Arkansas's requirements are all below the regional average except for experience hours.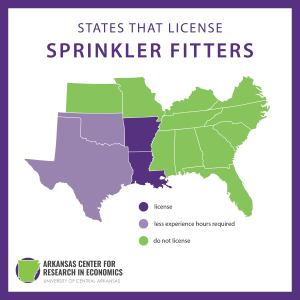 For any instances where Arkansas has higher requirements than their neighbors, we recommend a cost benefit analysis determining if these requirements need to be this high when other states have no problems with lower ones. For more background information on these occupations, check out our infographics on sprinkler fitters and acupuncturists.

As for recommendations, acupuncturists have some problematic requirements for those with criminal backgrounds. Instead of a formal check, the board actually requires "the affidavits of at least two (2) reputable acupuncturists".  Setting a bottleneck where competitors need to approve those applying to work in their field isn't just a bad way to do a criminal background check, it's also anti-competitive.
Sprinkler fitters should be delicensed, for a few reasons. 21 states manage to avoid major threats to health and safety without this license. 
Arkansas' sunset review subcommittee has the potential to make a real positive impact on people's lives by taking down barriers people face trying to work. ACRE will continue to provide data and research on occupations in the coming sunset review meetings in hopes to be a useful tool for improving Arkansas's licensing environment.
For more of our work on occupational licensing, check out our labor market regulation page.