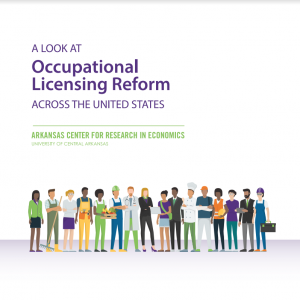 More Americans are working in licensed occupations than ever before. States all across the country are increasingly turning to licensing, but at the same time, many states are beginning to realize that this system of licensing needs reform. States such as Michigan, Arizona, Florida, Tennessee, Mississippi, Utah, Oklahoma, Nebraska, Indiana, and Louisiana have taken steps towards reform. This report, A Look at Occupational Licensing Reform Across the United States, was written by Marc Kilmer for the Arkansas Center for Research in Economics as an  exploration into the reforms from these other states and what Arkansas can learn from them. Three things emerged as important factors contributing to reform. They were political leadership from the state's Governor, the establishment of commissions with clear guidelines, and outside groups working for reform.
Political leadership from the governor was one of the strongest factors influencing whether or not licensing was reformed. Governors accomplished this in a myriad of ways. Both Michigan Governor Rick Snyder and Arizona Governor Doug Ducey made licensing reform a priority as soon as they came into office, and they went to the public, educating them and convincing the public why reforming licensing is important. Some states saw their governors act unilaterally, such as when Oklahoma Governor Mary Fallon used executive orders and established a task force. On the other hand, a lack of leadership from the top can be detrimental to reform efforts. In Florida, Governor Rick Scott did not make reform of licensing a priority, although it was made a priority by members of the Florida House of Representatives. The result was a failed attempt at reforming licensing.
The establishment of commissions with clear guidelines was also an important step for many states. Many interest groups will come together to argue against licensing reform. However, having a report come from a thoughtful, reputable commission allows legislators to have a full range of expertise and research already finished before the legislative session even begins. One good example comes from Michigan, where Governor Rick Snyder created a commission to study Michigan's licensing laws and make recommendations to the legislature on possible reform. This resulted in the delicensing of several occupations.
The last important lesson for Arkansas is that outside groups can have a strong influence on licensing reform. In every state where licensing reform is considered, industry groups mobilize in order to maintain the licensing status quo. Legislators also tend to listen to these industry professionals as they are often more knowledgeable about their occupation than most people. In states that had successful licensing reform, however, non-industry groups were often one of the keys to success.
For the full report, go here.
To see more of our work on the topic, check out our page here.