By Caleb Taylor
The costs of getting government permission slips to work affect where businesses in certain industries set up shop, said Dr. Alicia Plemmons at an ACRE Speaker Series event on Nov. 19.
Plemmons is a tenure-track Assistant Professor in the Economics & Finance Department at Southern Illinois University Edwardsville. She is also an applied microeconomist with a concentration in Public, Urban, and Labor Economics. Her research uses applied spatial and econometric methods to understand how policy changes affect labor markets.
While state tax rates, education, and quality of life are all common reasons given for where businesses choose to call home, Plemmons says the costs of obtaining occupational licenses to work in certain industries in states is also a factor.
Arkansans face some of the USA's heaviest restrictions on what occupations they can work in.
Arkansas is the third most broadly licensed state and has the sixth most burdensome licensing requirements, according to the Institute for Justice's "License to Work" study.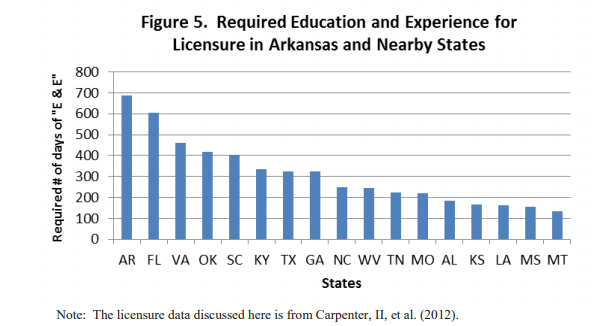 Occupational licensing is a cost businesses consider when choosing to stay or relocate.
Plemmons said:
If you have the option between a high-cost area and a low-cost area, you'll probably want to go to the low-cost area. Basically what we found from these results is that firms are making purposeful decisions about where they locate or reside. It turns out that they prefer low-cost areas as opposed to high-cost areas. Not only are we finding that these high-cost areas have less firms…these areas also have less employment and there's less people that have jobs that are subject to the occupational licenses."
Plemmons encouraged policymakers to consider whether the cost of obtaining occupational licenses in their states is an outlier compared to surrounding states. High costs compared to nearby states might be the difference between businesses coming to their state.
Plemmons said:
Consider adjacent states when setting your occupational licensing policy. It might be that you get people from other states if you set your costs low enough."
To see other measures of the burden of occupational licensing in Arkansas, look at this research paper entitled "The Effects of Arkansas Occupational Licensure Regulations" by UCA Associate Professor and ACRE Scholar Dr. Thomas Snyder. Snyder was a co-author of "The State of Occupational Licensing: Arkansas" with researchers from the Mercatus Center. This report gives an overview of occupational licensing in Arkansas and makes suggestions for reform.
As ACRE Affiliate Marc Kilmer shows in "Occupational Licensing Reform Across the United States," these reforms are rapidly happening across other states. In an op-ed entitled "Red tape reduced," published in the Arkansas Democrat-Gazette on May 25, ACRE Economic Policy Analyst Alex Kanode explains the reform process that's ongoing in Arkansas. You can also read a blog post about the subcommittee's deliberations here.
For more on this topic, check out our labor market regulation research page.