UCA Women's Leadership Network is a network created for women, by women, to support women who are seasoned or aspirant leaders in the home, at work or in the community. The purpose of the network is to provide opportunities for women to connect from various backgrounds in Conway.
UCA Women's Leadership Network Presents…

Women's Business Showcase
February 28, 2018
6:00 p.m. – 8:30 p.m.
McCastlain Ballroom
(event moved from Brewer-Hegeman Conference Center)

Free admission and Hors d'oeuvres will be served
Calling all women! You're invited to attend the Women's Business Showcase hosted by the UCA Women's Leadership Network. This networking event is for those women who are just beginning their entrepreneurial journey, those who are just bumping along or those who have crossed the finish line. All women with a desire for business should attend this event. Topics include a history of women in labor markets, doing what you do best, making money while creating value, the status of women businesses in Arkansas and much more…
Women business owners will be exhibiting from all over Central Arkansas, so come out and support them! Hors d'oeuvres will be served and lots of door prizes!
See Who You Are: An Interactive Art Exhibit by Brenda Yelvington will be on exhibit during the showcase. You don't want to miss this experience
This event is FREE and open to all women. RSVP is required.
The Women's Business Showcase is sponsored by:
Showcase Program
Program starts at 6:00 p.m.
Kick off – Whitney Long, Emcee
Welcome to UCA – Mrs. Jenny Davis, UCA First Lady
Women and business in Arkansas – Christy Horpedahl, Program Manager for ACRE
Business resources for women – Patricia Nunn-Brown, Director for Minority and Women-Owned Business Enterprise
Photography exhibit info – Whitney Long, Emcee
OPEN SHOWCASE
Showcase ends at 8:30 p.m.
---
Speakers
Speakers' Bios
Whitney Long, Local Celebrity and Mortgage Market Manager – Iberia Bank
Christy Horpedahl, Program Manager, Arkansas Center for Research in Economics
Patricia Nunn Brown, Director of Minority and Women-Owned Business Enterprise
---
Showcase Vendors
ANGIE DAVIS
bazaar beans
Bledsoe Chiropractic
BlessedGals
Brave Designs
Brenda Yelvington Life Coach & Photography
CeCi's Chicken and Waffles
Conway Canine Companions
Creative Romance
Definitive Formulations
Easley Life Photography
Face in Five Studios/ Mary Kay
Francis M. Fine Jewelry
Glover Fitness
Go Inside Yoga
Impact Life Coaching
IT'S REAL Nutrition
Julie's Sweet Shoppe
Bow Wow & Meow Bakery
Limelight by Alcone
Mini Chic Children's Boutique
Movie House Winery
NextHome Local Realty Group
Noydeen Beauty
Parker Education & Development, LLC.
Pink Cashmere Publishing
Streetside Crêperie
Brushes & Beyond
Rodan + Fields
Sevenfold Professional Improvement Coaching
Silverlake Design Studio
Sweet Home Candles
Synergy & Star Aesthetics
The Blue Focus
TreeHouse Cleaning, LLC.
Vesta's Conway
Mentorship Program
A component of the Women's Leadership Network is mentorship. The network would like to encourage mentorship believing that relationships you develop will become channels for the passage of information, advice, challenges, opportunities and support.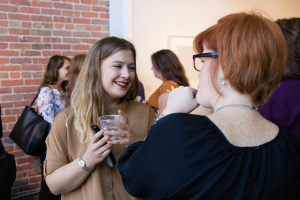 Please note the mentorship program is optional; it is NOT required to be part of the network.
 Responsibilities:
SHARE  knowledge, information, stories of achievement experiences and wisdom

RESPECT each other's time and develop a mutually beneficial relationship

SPONSOR each other by making known the strengths, skills and work to decision makers for the advancement of women in leadership roles

CHALLENGE by presenting new ideas, opportunities and challenges to each other

SUPPORT and encourage growth and achievement by providing an open and supportive environment

SET GOALS to discover your talents and interests and work toward achieving your goals together

MODEL positive behaviors that are consistent with strong women leaders
Participants of the mentorship program must complete the entire program period which is September 2017 – March 2018. Mentors and mentees must commit to spending at least one (1) hour per month together. We will begin accepting applications for the mentorship program in March 2018. If you have questions, please contact Dr. Shaneil Ealy at sealy@uca.edu or 501-450-5275.
---
Women's Leadership Network at UCA is proud to collaborate with and support other women's groups and programs such as Women in Network-Conway. For more information, please contact Dr. Shaneil Ealy, Assistant Vice President of UCA Outreach & Community Engagement, at sealy@uca.edu or 501-450-5275.