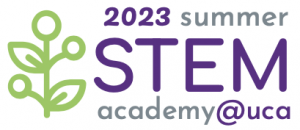 The 2023 Summer STEM Academy @ UCA was a one-week research immersion experience for students entering grades 9 – 11. In three complementary courses:
(1) plant ecology & climate science ;
(2) experimental design and empirical modeling; and
(3) data analysis & visualization;
students designed, implemented, and analyzed data from their own experiments focused on the biological, chemical, and physical factors responsible for seed dispersal and seed germination. The program was funded by an AEGIS grant from the Arkansas Department of Education and organized by the UCA STEM Institute.
June 12-16, 8:30 – 3:30 daily
Learn More
Any questions can be directed to the UCA STEM Institute (ucasteminstitute@uca.edu, 501-450-3426) or by contacting any of our program faculty:
Our groups this year are named after prominent botanists George Washington Carver and Robin Wall Kimmerer. Check out the links below to learn more about these influential scientists:
George Washington Carver profile
Course Links
Course materials will be posted here during the STEM Academy week