Welcome to the UCA STEM Institute
The Institute is Open
Amidst the closing of classes due to preemptive measures to slow COVID-19, the STEM Institute will remain open to all those that require resources (with appointment). While we will be practicing safe strategies to keep ourselves and our guests safe; we don't want to shut off this teaching tool for many in our out-reach. If you would like to borrow supplies for your classroom, our doors are open. Please call 501-450-5663 before visiting the Institute for resources or if you have any questions.
Resources for parents: Enriching Activities
Resources for Teachers: Math and Science
---
What's New In Science
Second wave of COVID-19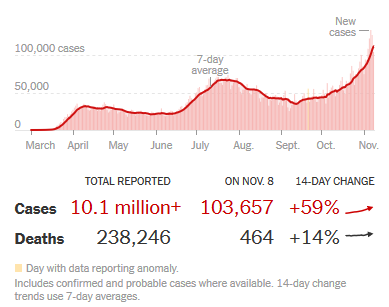 Coronavirus cases across the globe have been skyrocketing as of late, and the death toll is rising along with it. We're seeing in many states across the US record breaking highs seemingly every day. At least 464 new coronavirus deaths and 103,657 new cases were reported in the United States on Nov. 8. As of Monday afternoon, more than 10,124,700 people in the United States have been infected and at least 238,200 have died, according to a New York Times database. As conditions worsen and winter approaches, some governors in the Northeast issued stay-at-home advisories. In Iowa, exhausted hospital leaders pleaded with residents to wear masks and avoid crowds. And in both rural counties and major cities, infections continued rising to fearsome new levels with no end in sight.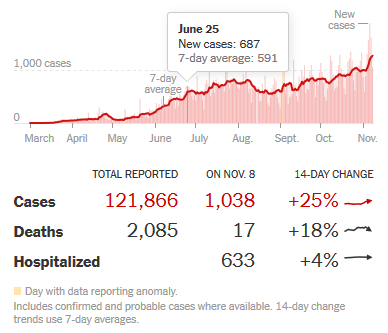 Arkansas has become the 8th state with the highest number of corona based deaths per capita. At least 17 new coronavirus deaths and 1,038 new cases were reported in Arkansas on Nov. 8. Over the past week, there has been an average of 1,258 cases per day, an increase of 25 percent from the average two weeks earlier. As of Monday afternoon, there have been at least 121,866 cases and 2,085 deaths in Arkansas since the beginning of the pandemic.
---
After School Help and Teacher Trainings

The STEM Institute offers assistance in after school activities regarding STEM activities that your school would like to host. If you have any questions in regards to seeing what we can do, you can call or email Dr. Garimella.
Email: ucasteminstitute@uca.edu
Phone#: (501) 450-5663
We also offer online teacher trainings for various practices throughout the year.
These sessions are NO COST! Space is limited, but session recordings will be available at a later date for no PD credit.
You can find out more information by following the link: https://uca.edu/education/coe-pd/#STEM
---
Resources
We provide variety of resources and materials for both teachers and students to use. Please click one of the buttons below for more information on each: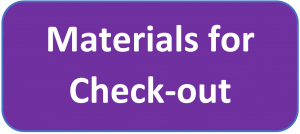 ---
Join Our Newsletter Mailing List
You can join the STEM Institute's monthly newsletter here
---