Please note that all institutional scholarships are competitively awarded and limited based on available funds.
It is the student's responsibility to ensure qualifying transcripts, test scores and other required documents are received by the established deadlines.
Spring 2021 Transfer Scholarships
Click the chart below to enlarge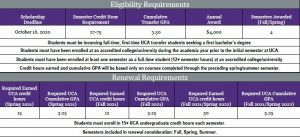 For more information about eligibility, application policy, and deadlines, click here.
Bear Partner Scholarship
Academic All Star Scholarship
♦  Required documentation for all scholarships must be submitted to the Office of Admissions and Enrollment Services.
♦  The student must have completed remediation requirements.  To assist in determining whether remediation requirements have been satisfied, students are encouraged to submit test scores (e.g., ACT, SAT, AP, CLEP).
♦  Students must be enrolled in a minimum of 15 UCA undergraduate credit hours as of the 8th class day each semester.
♦  Academic scholarships apply to charges for in-state tuition, room/board, and mandatory fees directly assessed by the University.
♦  Students must remain in good academic standing as described in the current UCA Undergraduate Bulletin.
♦  Please review the Scholarship Policies at uca.edu/scholarships/policies/ for all scholarship requirements