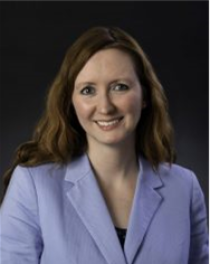 Kathryn A. Carroll, PhD, CFCS, CPFFE
Assistant Professor
McAlister 116
(501) 450-3612
At UCA she teaches undergraduate and graduate courses in our Family & Consumer Sciences (FCS) program, including a Service-Learning personal finance course.  Kathryn is also a 
UCA Service-Learning Faculty Fellow
, and a Faculty Affiliate of the Arkansas Center for Research in Economics (ACRE)'s 
Social Studies Library
.  She also advises undergraduate students in our B.S. in FCS major, FCS minor, and graduate students pursuing the M.S. in FCS.  In 2023, Kathryn received the Outstanding FCS Educator of the Year Award from the Arkansas Association of Family and Consumer Sciences.
As a researcher, she uses experiments and survey research to examine questions in the area of consumer decision-making.  Kathryn is especially interested in consumer food choice, local food, behavioral nudges, and health interventions.  She also has interests in financial decision-making and education, particularly among college students.  Kathryn's work is designed to help address real-world problems, with the goal of providing useful information for individuals, producers, policymakers, retailers, and other stakeholders. Recent collaborations include projects with the 
Arkansas Foodbank
, the 
FUMC-Conway Food Pantry
, and 
Arkansas Asset Builders
, as well as curriculum efforts with the Arkansas Center for Research in Economics (ACRE)'s 
Social Studies Library
.