Apply here before January 23. Register for our November 15 (7pm) or January 12 (7pm) virtual preview events here. Información en español

Welcome to the University of Central Arkansas University Scholars Program!
The University Scholars Program is UCA's newest honors program, but students are already taking part in this specially designed curriculum that allows students to take a deeper dive into their areas of academic interest. The University Scholars Program offers scholarship incentives plus a private room upgrade, together valued at more than $13,000 in scholarships on top of the student's academic scholarship, for every student admitted. All Honors students are given the opportunity to live in Farris Honors Hall, featuring private rooms arranged in suites.
The curriculum for the University Scholars Program was developed by a team of faculty from across all academic colleges at UCA. Students will participate in a specially designed curriculum that focuses on developing skills in the areas of personal and social responsibility as well as disciplinary expertise and leadership, while maintaining your freedom to pursue any major. We believe the skills you will get out of this program are the type of cutting-edge skills that you need to prepare you for graduate school and your future profession.
There will be a common course in the fall of the freshman year entitled "On Expertise: The Necessity of Scholarship and Leadership" that all participants will take, and then, each remaining semester in the freshman and sophomore years, you will have the opportunity to take honors-sections of university core courses that will have smaller enrollments, be discussion-based, and will focus on developing a specialized skill set. In the junior and senior year, you will complete an honor capstone project rooted in undergraduate research or creative work.
The University Scholars Program uses a holistic admission process that factors in academic performance, motivation, and quality of writing. The only minimum requirements to apply are a 3.5 HS GPA and full admission to the university. To apply to the University Scholars Program, please use our secure online application form linked below and submit all materials on or before the January deadline. Once you have begun the application, you can monitor your status through our secure, web-based information system, and once registered will be able to save your in-process application and return to complete it at any time. If you do not remember you username or password, use the reset password feature at honors.uca.edu/apply and an email will be sent to you containing your username. Email us at honors@uca.edu if you have any questions.
---
Application Requirements Due January 23
Background and Recommendation. The application asks for background information that should take no more than 15 minutes to provide, as well as the name and e-mail contact of one academic recommender. For your academic recommendation, be sure to select a teacher or counselor that is familiar with your academic record and who will be able to intelligently evaluate you on all of the following characteristics: intellectual ability, motivation, maturity, oral and written communication skills, analytic ability, and creativity. We will contact your recommender with information about how to complete a recommendation form on our website. For the University Scholars Program, only one recommendation is required, but if you are applying for both programs, a service and leadership reference will also be required. In order to submit your application, you must have entered the name and email address of your academic recommendation, but a short grace period will be granted after the deadline for your reference to be completed, so you can submit the application prior to that being complete.  We encourage you to speak with your reference prior to listing them and to follow up with them immediately after initiating the reference form being sent to be sure they are getting the request form. This will help identify if there has been an issue with the automated form getting through the school's firewall well before the deadline.
One Essay. You will be asked to provide one academic essay. In this essay, we ask you to read an essay by Peter Elbow and respond to it in 600-800 words based on a prompt we provide. Write your essay offline. Take your time. Research, write a draft, get reviews, revise it, and carry out that process more than once. When you have the best draft you can produce, paste it to the webform. This writing sample carries a great deal of weight in our admission process. The components of the University Scholars Program application, including this academic essay and the above academic recommendation make up one half of the Schedler Honors College application. Consider researching that program, and submitting the second essay and reference in order to be considered for both programs.
Complete Application to UCA. For high school applicants, you should have submitted all items required for university admission to the UCA Office of Admissions no later than January 23rd. Please note that you

 

will be required to provide your UCA student ID in order to complete your University Scholars Program application. UCA Admissions will issue your ID once you have been admitted. We will use this information to verify ACT, GPA, and Class Rank for high school applicants. You may work on your application prior to being admitted to UCA, but we will not review the application until all supplemental items are received by the university and your admission to UCA is confirmed.
If you are applying to both the University Scholars Program and the Schedler Honors College, you will need to complete additional elements for the full Schedler Honors College application. See information about that application here.
---
Application Review and Scoring
The review of application materials begins in January for incoming freshmen. Once the application, recommendation, admission verification, and transcript data are received, your application will be given consideration by a committee of honors faculty and administrators.
---
Step 1.
The first step is to review your academic record and recommendation based on the transcript data you submitted for admission to UCA. Your prior academic record is worth 77% of your overall score.
GPA = 38%
Class Rank = 20%
Recommendation = 18%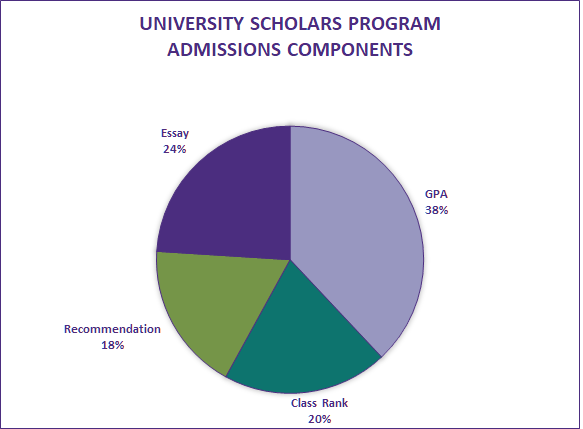 ---
Step 2. In the second step an honors faculty member will read and score the essay you submitted. Once scored, the faculty member will make a recommendation—based solely on your writing—whether to further consider your application in full. The essay will be scored on the following criteria (24% of the total admission points):
Elbow Essay
Shows understanding of purpose
Shows understanding and appreciation of main parts of argument
Provides and analyzes effective example
Demonstrates clear and original thinking
Mechanics
Mechanically and syntactically sound
Strong and coherent sentences and paragraphs
Use of specific details and examples
Overall flow and organization
---
Step 3. In the third step the Dean and Program Director read every essay as well as review the academic record. Taking into account the faculty member's recommendation as well as the student's overall score, they reach a consensus about whom to invite into the University Scholars Program. If you are applying for the Schedler Honors College, then an interview will also be required. You will hear from the University Scholars Program in early March. That notification will make plain whether you are being offered admission, being put on a waiting list, or are no longer being considered for admission. If you are offered admission, you will be asked to confirm your acceptance to the University Scholars Program no later than March 15.
---
Ready?