To continue our effort for a more equitable Arkansas, the UCA Center for Community and Economic Development has partnered with the Arkansas Peace and Justice Memorial Movement and The Yarn Storytelling have developed the 28-Day Arkansas Racial Equity and Social Justice Challenge. This is a daily challenge starting on February 1st that gives an actionable step each day to learn more about racial and social justice and how you can take action in your personal life and in your community. These actions include reading articles, watching videos, viewing resources, and reflecting on what you've learned.
We also partnered with The Yarn Storytelling to offer storytelling workshops on February 1st from 6:00 to 6:45 p.m. and from 5:30 to 7:00 p.m. on February 8th, 15th, and 22nd to create a space to understand your story and how it can be used for positive change. If you weren't able to attend a workshop, you can learn more about storytelling by visiting The Yarn's website.
We believe by taking these daily steps, you can learn more about yourself and how you can be a part of the process of racial healing in your community.
Download and share the Arkansas Racial Equity and Social Justice Challenge calendar today!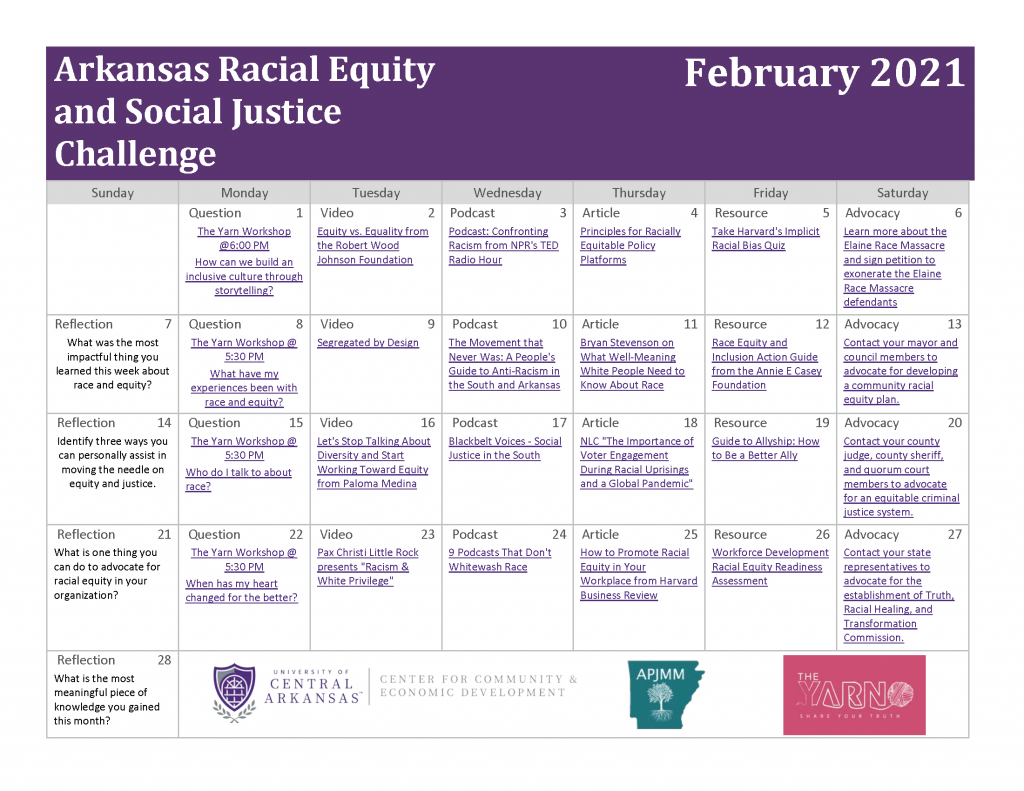 February 1: Question: How Can We Build an Inclusive Culture Through Storytelling? – Workshop w/ The Yarn Monday, February 1 from 6:00 – 6:45 p.m.
February 2: Video: Equity vs. Equality
February 3: Podcast: Ted Radio Hour: Confronting Racism
February 4: Article: Principles For Racially Equitable Policy Platforms
February 5: Resource: Take Harvard's Implicit Racial Bias Quiz
February 6: Advocacy: Tell at least one family member and one friend something you have learned about racial equity and have each of you sign the petition to exonerate the Elaine Race Massacre defendants
February 7: Reflection: What was the most impactful thing you learned this week about race and equity?
February 8: Question: What Have My Experiences Been with Race and Equity? – Workshop w/ The Yarn on Monday, February 8 from 5:30 – 7:00 p.m.
February 9: Video: Segregated By Design
February 10: Podcast: The Movement that Never Was: A People's Guide to Anti-Racism in the South and Arkansas (Episode 1)
February 11: Article: Bryan Stevenson on What Well-Meaning White People Need to Know About Race
February 12: Resource: Race Equity and Inclusion Action Guide – Annie E Casey Foundation
February 13: Advocacy: Contact your mayor and council members to advocate for an ordinance that demonstrates your city's complete commitment to establishing a full racially equitable and socially just community by developing a racial equity plan.
February 14: Reflection: Based on the information you have gathered so far, identify three ways you can personally assist in moving the needle on equity and justice?
February 15: Question: Who Do I Talk to About Race? – Workshop w/ The Yarn on Monday, February 15 from 5:30 – 7:00 p.m.
February 16: Video: Let's Stop Talking About Diversity and Start Working Toward Equity, Paloma Medina
February 17: Podcast: Social Justice in the South from Blackbelt Voices
February 18: Article: NLC "The Importance of Voter Engagement During Racial Uprisings and a Global Pandemic"
February 19: Resource: Guide to Allyship
February 20: Advocacy: Contact your county judge, county sheriff, and quorum court members to advocate for an equitable criminal justice system that includes the abolition of cash bail and meaningful re-entry programs.
February 21: Reflection: What is one thing you can do in your organization to advocate for racial equity in your organization?
February 22: Question: When Has My Heart Changed for the Better? – Workshop w/ The Yarn on Monday, February 22 from 5:30 – 7:00 p.m.
February 23: Video: Pax Christi Little Rock presents "Racism & White Privilege" 
February 24: Podcast: 9 Podcasts That Don't Whitewash Race
February 25:  Article: How to Promote Racial Equity in Your Workplace from the Harvard Business Review
February 26: Resource: Workforce Development Racial Equity Readiness Assessment
February 27: Advocacy: Contact all of the state legislators representing your county to advocate for the establishment of a statewide Truth, Racial Healing, and Transformation Commission.
February 28: Reflection: What is the most meaningful piece of knowledge you gained this month?