Dear Friends,
Most people are unaware that the Arkansas Razorbacks and the UCA Bears once competed in football, baseball, men's basketball and women's basketball.  For the men's teams, the last time  Arkansas State Teachers College (now University of Central Arkansas – UCA)  and the University of Arkansas (U of A) at Fayetteville competed in a sporting event; Harry Truman was president, a loaf of bread cost 14 cents, the average new car cost $1,250 and gasoline was 16 cents a gallon.  The year was 1948 and the last game played between the Bears and the Razorbacks was baseball.
Competition between women's teams has been more recent. The UCA women's basketball team played the University of Arkansas women's team during the 1977-1978 season.  The Sugar Bears lost a close game to the U of A, 59 to 65. UCA and the U of A did not schedule each other every year, but from 1921 to 1948 and then again in 1978 they met in athletic competition, a total of 27 times in four different team sports.  It should be mentioned that the 1977-1978 UCA Women's Basketball Team was in its second year of competition, since 1932.  There was a long hiatus in UCA Women's Basketball that began in 1932 and ended in 1976.
Admittedly, the Bears did not  compete very well with the Razorbacks in football and lost all three games.  When the first game between the two clubs was played in 1923, the Bears were treated very kindly by the University of Arkansas Boosters Club.  After the Bears arrived in Fayetteville they were treated to a reception in their honor and a dance was held for them on Saturday night.  The Bears' coach, Guy "Big Dan" Estes, was very familiar with the University of Arkansas and was a former Arkansas Razorback football star who played for Coach Hugo Bezdek.  During his coaching career Bezdek, who was born in Prague, Czechoslovakia, served as head coach for the University of Arkansas, University of Oregon and Penn State University.  He was admitted into the College Football Hall of Fame in 1954.
It must be noted that UCA's former cross-town rival, Hendrix College, tied the Razorbacks twice, according to former Hendrix Warrior basketball coach, Cliff Garrison.  In 1920 the Hendrix Bulldogs, under Coach Charles R. Woody, fought the Razorbacks to a 0-0 tie.  In 1932 Hendrix, now coached by legendary Coach Ivan Grove, tied the Razorbacks again with the same score, 0-0.
While UCA did not win any games against the Razorbacks in football, it was a different story in baseball.  The Bears and Razorbacks observed a home and home series and played a total of 17 games, according to Ted Worley, former UCA history professor.
The Bears beat the Razorbacks in baseball the first time they played in 1921, with the Bears winning 4 to 2. The Bears swept all three games with the Razorbacks in 1947, and beat Arkansas 5-4, 10-9, and 9-5.
The baseball series between the Bears and Razorbacks is tied, with the Bears winning 7 games and the Razorbacks winning 7 games and 3 games ending in a tie.  While a draw or a tie is certainly unusual in baseball, it could happen under the right circumstances.  After the next season (1948) ended, the Razorbacks were never again on UCA's schedule.
The Bears and Razorbacks also played men's basketball against one another.  The U of A dominated UCA in this sport winning all six games played between the two schools.  The scores and year of the basketball games are as follows: 1924 – UA 62 UCA 28; 1924 – UA 34 UCA 14; 1933-1934 – UA 54 UCA 30; 1935-1936 – UA 42 UCA 38; 1935-1936 – UA 66 UCA 27; and 1946-1947 – UA 59 UCA 39.
Currently, UCA and the U of A do not engage in athletic competition with one another.  However, in recent years they have played some of the same opponents in at least one sport; Kansas State University, Missouri State University, Tennessee Tech University, University of Mississippi (Ole Miss), Wichita State University, University of Kentucky, University of Oklahoma, University of Missouri, Stephen F. Austin, Southeastern Louisiana, Northwestern State University, Texas State University and the University of Texas at Arlington.
When this author asked about the U of A's policy regarding in-state opponents, Kevin Trainor, who in 2012 was the  Associate Athletic Director of Public Relations for the University of Arkansas, stated in an e-mail, "It has been a long-standing policy of the University of Arkansas Athletic Department to not schedule competitions in team sports against other institutions within the state. The practice began with former coach and athletic director John Barnhill and has been continued in the years following its introduction. The policy has enabled fans from all around the state to be united in their support for the University of Arkansas while also supporting the other intercollegiate athletic programs within Arkansas."
Steve East, Assistant Athletic Director for Media Relations, said that UCA's Men's and Women's Cross Country Teams compete in events where Arkansas might be competing.  It is also possible for UCA and Arkansas to compete in golf tournaments and track and field.  But there is no direct competition between UCA and the University of Arkansas on a one-on-one team vs. team basis.
Author's Note:  Sources for this article were The Echo, the Scroll, the Log Cabin Democrat, UCASports.com record books for football, baseball, and men's & women's basketball that are compiled and maintained by Steve East, "A History of the Arkansas State Teachers College" by Ted Worley, University of Arkansas Office of Institutional Research, Penn State University website, Coach Cliff Garrison, Kevin Trainor and Steve East.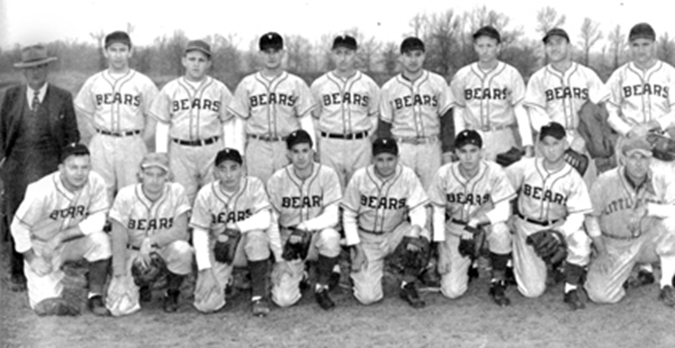 The 1947 Bear Baseball Team swept the Arkansas Razorbacks in a three-game series.