By Caleb Taylor
How many county governments publish the salaries of their elected officials? 
In their latest research, "Elected Officials' Salaries Transparency," ACRE Policy Analysts Joyce Ajayi and Dr. Mavuto Kalulu discuss this and ways county governments can improve their online transparency.
Ajayi and Kalulu begin by noting that only two counties in Arkansas publish elected officials' salaries online.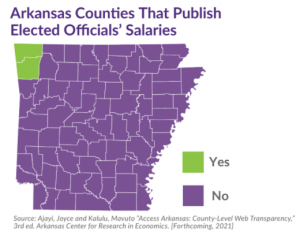 According to Ajayi and Kalulu, improving elected officials' salaries transparency could help prevent incidents like the 2020 arrest for theft of taxpayer funds by Craighead County Clerk Kade Holliday.
Ajayi and Kalulu write:
County governments should publish elected officials' salaries online, and include officials' names, not just job titles. 

The Association of Arkansas Counties (AAC) publishes a County Government Salary Survey that shows the salaries of elected officials at https://www.arcounties.org/site/assets/files/5579/2020_sal-ary_survey_complete.pdf. If counties cannot directly publish the salaries on their websites, they should link to the AAC salary survey so that citizens can easily access the data. The AAC survey should be augmented with public officials' names, not just salaries by job title."
You can read the rest of the report here.
You can read the entire third edition of "Access Arkansas: County Web Transparency" by Ajayi and Kalulu here.
For more of our research on transparency, go here.