By Caleb Taylor
A recent arrest of a Craighead County Clerk for theft of public funds shows the importance of improving the online transparency of county governments in Arkansas.
Craighead County Clerk Kade Holliday resigned last week and was charged with 13 felonies related to theft of public funds — estimated at $1.6 million —after auditors alerted officials to suspicious activity, according to Arkansas Online.
Holliday was charged with 12 counts of felony theft of property and one count of abuse of public trust.
Holliday was elected as county clerk in 2012.
Online transparency helps the public guard against cases of alleged fraud like this one.
New Research On Educational Attainment and Fraud
According to a 2020 report by the Association of Certified Fraud Examiners, internal and external audits are responsible for the detection of  only 19% of occupational fraud.
"State Government Internal Auditing, Education Attainment, and Occupational Fraud Control" by ACRE Economic Policy Analyst Dr. Mavuto Kalulu and UCA Assistant Professor of Accounting Ashley Phillips, published in the Volume 41, Number 2 edition of the Southern Business and Economic Journal of Auburn University in April examines the effectiveness of public sector internal auditing in reducing public sector corruption. 
Kalulu and Phillips find that state internal auditing laws and practices have been ineffective in reducing public sector corruption. They recommend states emphasizing other ways of controlling corruption such as "improving education standards" since states with a higher percentage of the population holding a bachelor's degree have fewer corruption conviction cases.
Kalulu and Phillips write:
We argue that more educated states are more capable of scrutinizing how public officials are managing public resources and are able to hold them accountable. Public officials become afraid that the chances of being caught are higher when people are watching them, and this deters them from engaging in corrupt activities. On the basis of our findings, we recommend that states focus on policies to improve education quality, since this is the only variable that is consistently negatively related to public sector corruption."
The paper was published before Holliday's arrest.
Craighead County's Online Transparency Score
Craighead County ranked ninth in overall online transparency in the second edition of Access Arkansas: County Web Transparency, produced by ACRE Policy Analysts Mavuto Kalulu and Joyce Ajayi, in December 2019.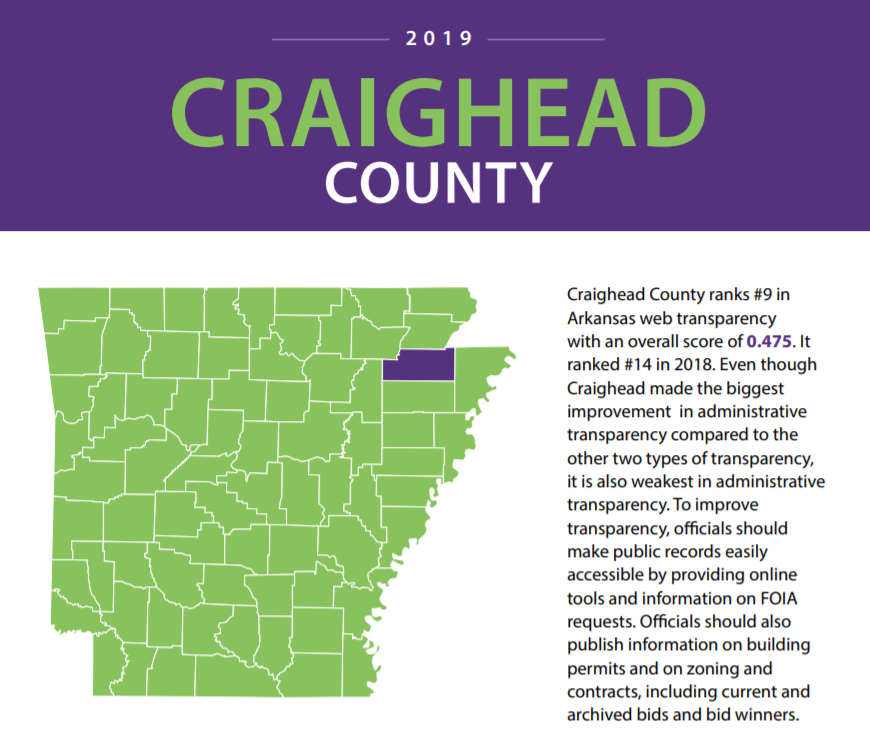 The index ranks counties on a score from 0 to 1 by combining the three types of transparency listed above: fiscal, administrative, and political. Fiscal transparency is the disclosure of financial information. Administrative transparency relates to the openness of government activities and processes, while political transparency relates to the transparency of elected officials and quorum courts.
According to the index, Craighead County publishes online 47.5 percent of the important public information tracked in the index. According to the authors, 67 of the 75 Arkansas counties publish less than 50 percent of this information online.
To see more of our work relating to this topic, you can go here.