By Caleb Taylor
Who made the Arkansas Center for Research in Economics's  'nice list' when it comes to transparency in 2019?
You can find out through the just-released second annual Transparency Index from the Arkansas Center for Research in Economics, co-authored by ACRE Policy Analysts Dr. Mavuto Kalulu and Joyce Ajayi.
In 2018 four counties published at least 50 percent of the important public information included in our index. In 2019 eight counties do.
The index's authors begin the report by noting some improvement on overall transparency scores since the previous report.
This edition also highlights the counties that have improved the most since last year. Our assessment shows some improvement in overall transparency. For Arkansas counties as a whole, we find that, as in 2018, political transparency is the best, followed by fiscal then administrative transparency. Fiscal transparency improved the most, followed by political then administrative transparency. The current index shows that, on average, Arkansas counties are publishing about 21 percent of the important information included in our index compared to about 15 percent in 2018."
That's an average of over one third since just last year — and that's very encouraging.
The index ranks all Arkansas counties by how much financial, political and administrative information their websites contain.
According to the report:
Fiscal transparency is the disclosure of how governments spend tax dollars. Administrative transparency relates to the openness of government activities and processes, while political transparency relates to the disclosure of information about elected officials and openness of elected bodies such as quorum courts — the legislative body of county governments."
Top Performers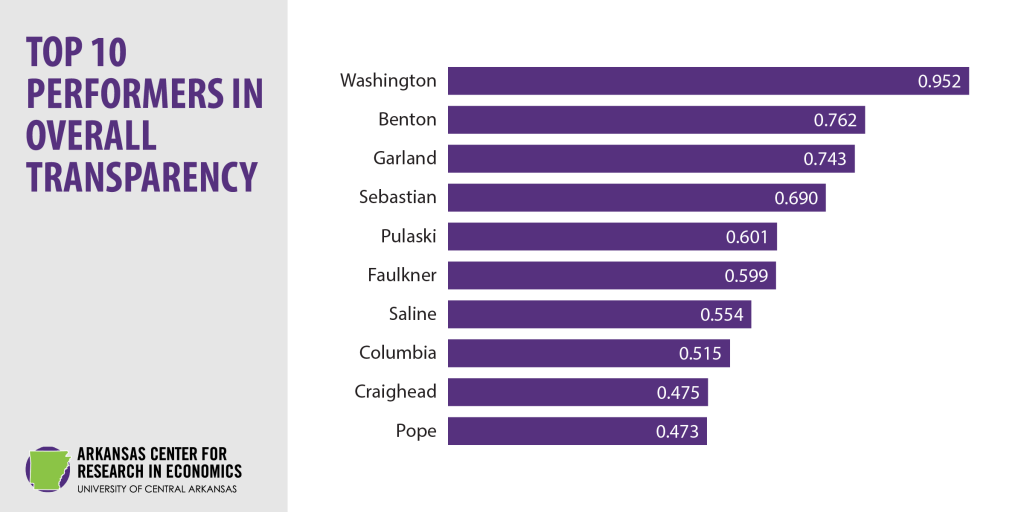 In the 2018 report, Washington County received the highest overall transparency score, with Pulaski, Benton, Garland and Baxter rounding out the top five. In 2019, Washington County once again garnered the highest transparency score. Benton, Garland and Pulaski counties once again remained in the top five while Sebastian County improved from seventh in 2018 to fourth in 2019.
Most-Improved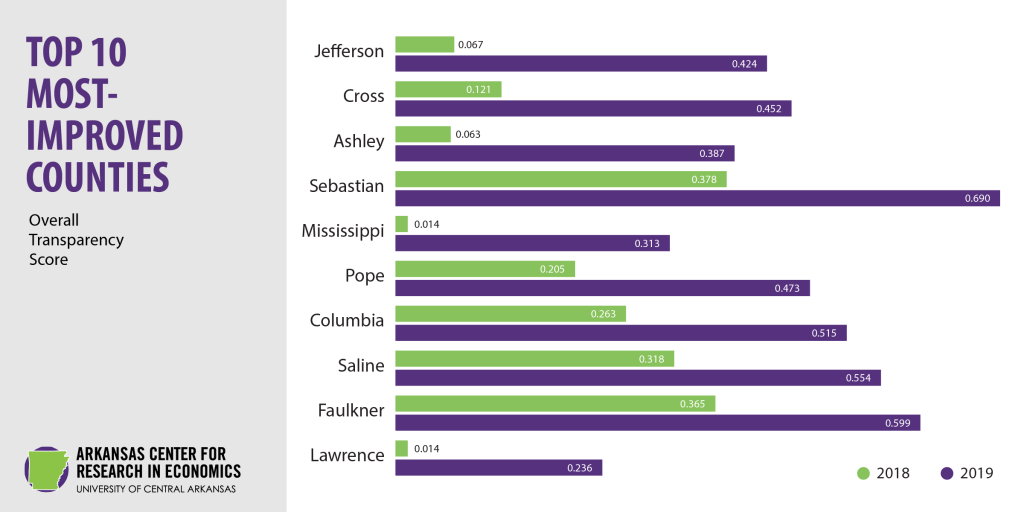 Also of interest are the counties that have improved the most since the 2018 index. 
From the report:
Jefferson County improved the most, by 0.357, which is equivalent to adding close to 36 percent of the important public information included in the index. In terms of ranking, Jefferson County moved from ranking 50th in the state in 2018 to 12th in 2019. One reason for this improvement is that Jefferson County now has its own stand-alone website. Previously, it published only a few pieces of information on the Arkansas.gov platform. Other counties worthy of mention are Cross and Ashley, which improved by 0.330 and 0.323 points, respectively. This improvement made Cross County jump from 28th in 2018 to 11th in 2019; Ashley leaped from 52nd to 18th. Three counties (Sebastian, Saline, and Faulkner) that were in the top 10 in 2018 are among the top 10 most-improved counties in overall transparency, showing that even when counties have relatively high rankings, they can make important improvements."
Legislative Change
The inaugural index was produced by ACRE Policy Analyst Dr. Mavuto Kalulu, Program Coordinator Terra Aquia and ACRE Policy Analyst Joyce Ajayi.
Kalulu, Ajayi and Aquia in the 2018 edition suggested state legislators consider requiring county governments to post their budgets online by amending state law. Act 564, passed into law in March, 2019 does just that. The law requires all Arkansas counties to post their annual budget on a website owned or maintained by the county, the state, or the Association of Arkansas Counties beginning on January 1, 2020. Counties are already required to publish such information in their local newspaper. Kalulu spoke in favor of the changes before the Arkansas House City, County and Local Affairs Committee on March 7.
For more of our research on transparency, go here.