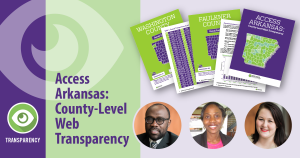 Transparency has many benefits. It enhances accountability. It instills fiscal discipline. It promotes trust, and reduces corruption. These are all things government officials should strive for. ACRE has published its inaugural transparency index, produced by ACRE Policy Analyst Mavuto Kalulu and Program Coordinator Terra Aquia, that examines the web transparency of each Arkansas county. PhD student Joyce Ajayi also contributed to the project by assisting with research, collecting data, creating information checklists for counties, and presenting research and soliciting feedback at academic conferences.
The study focuses on web transparency because access to the internet has increased drastically in Arkansas in rural areas, from 16 percent in 2013 to 58 percent in 2016. They rank each Arkansas county in web transparency by how much financial, political and administrative information their websites contain.
Arkansas counties earned an F grade for web transparency in the  2013 Transparency Report Card produced by the Sunshine Review. Kalulu and Aquia hope the index will motivate Arkansas counties to improve access to this important information for their constituents. This index will be updated regularly, and provides two services. First, it will inform citizens about the level of their county government's transparency as well as allow them to monitor the improvements the county is making. Second, it will provide researchers information regarding transparency and will allow them to conduct research examining the relationship between transparency and economic and socioeconomic factors.
The index ranks counties on a score from 0 to 1 by combining the three types of transparency listed above: fiscal, administrative, and political. Fiscal transparency is the disclosure of financial information. Administrative transparency relates to the openness of government activities and processes, while political transparency relates to the transparency of elected officials and quorum courts. Washington County is the most web-transparent county in Arkansas, with a total score of 0.836. However, only four counties have an overall score greater than 0.5. Arkansas counties still have work to do to improve web transparency.
To see more of our work relating to this topic, you can go here.