By Caleb Taylor
How can Arkansas reduce government corruption?
ACRE Policy Analyst Dr. Mavuto Kalulu discussed solutions to this question and four steps officials can take to improve transparency in an op-ed published in the Arkansas Democrat-Gazette on August 5th.
Kalulu begins by noting the size and scope of corruption at all levels of government in Arkansas. There have been 189 corruption-related convictions that concern about $13 million in taxpayer dollars from 2010 to 2017, according to Arkansas Legislative Audit. 
Kalulu recommends prosecutors ensure there's "repercussion for failure to adhere to accounting standards and rules to minimize opportunities to misuse public resources." Kalulu also advises officials to ensure the "segregation of duties" between public employees to limit "opportunities for one person to abuse public resources."
Kalulu writes:
The last two areas for improvement in Arkansas are promoting transparency and access to information, and empowering citizens. A 2018 transparency report I co-authored with Terra Aquia and Joyce Ajayi assessing the state of transparency in Arkansas titled "Access Arkansas: County-Level Web Transparency" shows there is much room for improvement. Accessing fiscal, administrative, and political information on Arkansas counties is often difficult. For example, only eight counties out of 75 had their 2017 budget published online when we looked for them last year. The Legislature should be applauded for enacting Act 564, which requires counties to publish their budgets and financial statements online beginning January 2020. Easy access to financial information allows residents to be better informed, but also to be watchdogs as well. Elected officials will be more prudent when taxpayers are on the lookout. We need transparent processes in addition to knowing outcomes. Transparency helps with detection as well as deterrence of corruption. It's important to catch and punish those who abuse public resources and trust, but it's far better if it doesn't even occur in the first place. Fighting corruption requires a concerted effort. Those who abuse their positions should be found and punished. Processes should be improved to minimize the opportunities for abuse. Ensuring public information is easily accessible by the public informs and empowers them."
You can read the full op-ed here.
An updated index of county level transparency from "Access Arkansas" is scheduled to be released later this year.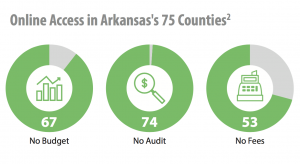 Interested in more of our work on transparency? Check out ACRE's new policy brief, "Let the Sun Shine In: Improving Access to Arkansas Counties' Financial Information," which shows what an average Arkansan would experience when attempting to collect county financial information.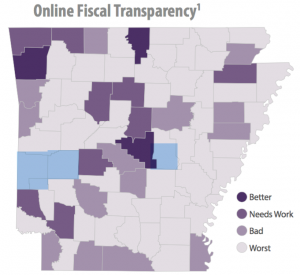 More ACRE research on this issue can be found on our Transparency page.
Related Work