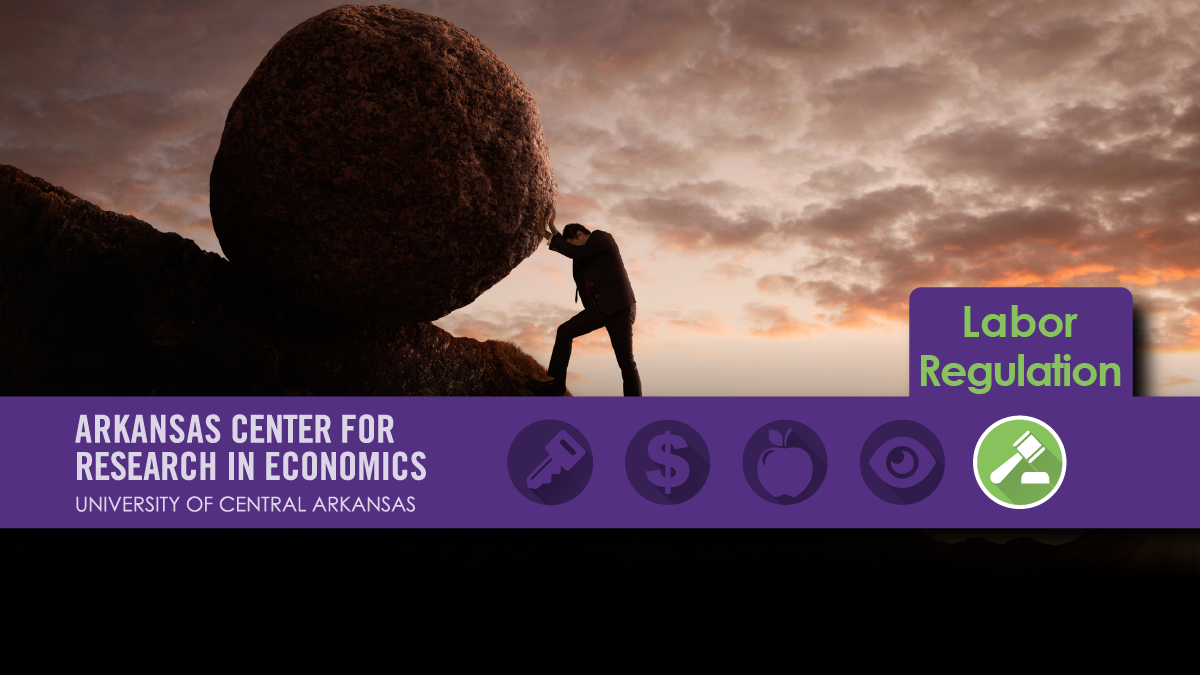 By Caleb Taylor
Arkansas's lower income workers face some of the heaviest licensing burdens in the country. That hurts job seekers, entrepreneurs, and consumers. These regulations also disproportionately harm military spouses, ex-offenders, minorities and immigrants. But new legislation could lead to better rules and more opportunities for Arkansans.  
House Bill 1527, or the Red Tape Reduction Sunrise and Sunset Act, would require the Arkansas Legislative Council (ALC) to review each occupational authorization and each occupational entity on an annual rotating basis to determine if the existing occupational authorization or occupational entity, or both, is consistent with the "least restrictive form of occupational authorization to protect consumers from significant and substantiated harms to public health and safety."
During testimony on the legislation in the Senate Committee on March 20, State Rep. Richard Womack, a co-sponsor of the legislation, said:
"This sets up a process through which a group from the Arkansas Legislative Council looks at all licensed entities once every 6 years on a rotating basis or upon request by a legislator. They do not have the authority to mandate any changes. They can make recommendations to the Legislature. The changes may or may not be made."
ACRE Policy Analyst Alex Kanode also testified on the legislation in the Senate committee. He explained that Arkansas has high licensing burdens that "increase prices, [have] no impact on quality, and [have] a disparate impact on ethnic minorities and military spouses."
Kanode said:
"Fortunately, sunset reviews are effective in reducing licensure burden across the U.S. Sunset reviews are regular examinations of different licensing entities, in this case every 6 years, in order to guarantee maximum effectiveness of public protection at the lowest burden to the public. Currently 26 states conduct sunset reviews, with two states already implementing them this year: Idaho and Ohio.
Sunset reviews are a chance for the Arkansas government to suggest and make changes at the local board level. What is good policy for the board of counselors may not be good for the board of cosmetology, and having this localized review of boards will help with that.
Sunset review could lead to the elimination of unnecessary regulations, but it can also lead to improvements of processes. Both of these lead to less waste of Arkansans time and money."
You can check out Kanode's full testimony here beginning at 11:29:13.
For more on the benefits of sunset reviews in improving opportunity for Arkansans, see Kanode's latest op-ed in the Arkansas Democrat-Gazette, "Watch the tape."
You can find more of ACRE's research on labor market regulation here including:  
"The State of Occupational Licensing: Arkansas"

 co-authored by ACRE Scholar and UCA Associate Professor Dr. Thomas Snyder with researchers from the Mercatus Center with a related

infographic

that highlights the harms caused to ethnic minorities, military spouses and immigrants.

"

Unnatural Rights in the Natural State

" a policy review was co-authored by ACRE Scholar and UCA Associate Professor Dr. Thomas Snyder with ACRE Director and UCA Associate Professor of Economics David Mitchell and Amy Fontinelle, an editor and author of several economics and policy related works. The authors discuss which occupations have the most burdensome licensing laws, how these restrictions affect job seekers, entrepreneurs, and consumers; and how we can reform the worst parts of these regulations.

"Occupational Licensing Reform Across the United States"

by ACRE-affiliated researcher Marc Kilmer looks at occupational licensing reform attempts across the nation including.