---
New at ACRE: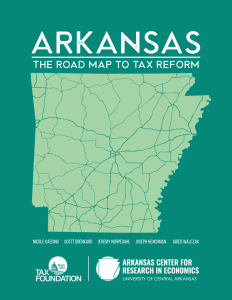 ACRE has completed a year-long study of Arkansas's current tax system, its history, and suggestions for tax reform, and the results of this research are published in our report "Arkansas: The Road Map To Tax Reform." This is a joint publication with experts at the Tax Foundation in Washington, DC. For more of ACRE's work on taxation, please see our "Taxation" issue page.
ACRE Scholar Dr. Jeremy Horpedahl and ACRE Policy Analyst Mr. Jacob Bundrick recently had a paper published through the Mercatus Center at George Mason University. In There's Nothing Natural about the State of Government Spending in Arkansas, the two explain that despite being one of the poorest states in the nation, Arkansas has a high state government spending level, even in comparison to similar states. This paper is a comprehensive analysis of how Arkansas got to where it is today as well as the reforms necessary to put Arkansas on a more sustainable path.
ACRE has been researching civil asset forfeiture activities as part of our commitment to ensuring that the property rights of Arkansans are respected and that government activities are transparent and accountable to the public. We are excited to release our newest policy brief on the subject, Guilty until Proven Innocent: Civil Asset Forfeiture in Arkansas. In this brief, ACRE affiliated research analyst Maleka Momand finds a major lack of transparency in Arkansas forfeiture processes that make it difficult to capture the true impact of civil asset forfeiture on the state. She explains how asset seizure works, which Arkansans are most affected by forfeiture, and some possible reform options. Specific suggestions include removing laws that incentivize law enforcement agencies to seize property without conviction and increasing requirements for seizure reporting.
---
The Arkansas Center for Research in Economics (ACRE) is an Arkansas focused research center housed in the College of Business at the University of Central Arkansas. ACRE scholars and policy analysts use academic research and original analysis to educate the public on important issues of public policy in Arkansas. Our research focuses on barriers to employment, taxes and subsidies, K-12 education, property rights, and government transparency. ACRE promotes solutions that respect the personal and economic freedoms of individuals because protecting and expanding these freedoms has a proven record of improving the lives of people around the world and here at home.
---
Sign up for the ACRE Newsletter: