---
New at ACRE: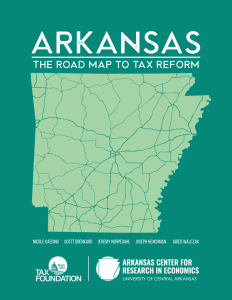 ACRE has completed a year-long study of Arkansas's current tax system, its history, and suggestions for tax reform, and the results of this research are published in our report "Arkansas: The Road Map To Tax Reform." This is a joint publication with experts at the Tax Foundation in Washington, DC. For more of ACRE's work on taxation, please see our "Taxation" issue page.
ACRE has released a policy review on occupational licensing in Arkansas, "Unnatural Rights in the Natural State." In this review, Dr. Thomas Snyder, Dr. David Mitchell, and Ms. Amy Fontinelle examine which occupations have the most burdensome licensing laws, how these restrictions affect job seekers, entrepreneurs, and consumers; and how we can reform the worst parts of these regulations.
---
The Arkansas Center for Research in Economics (ACRE) is an Arkansas focused research center housed in the College of Business at the University of Central Arkansas. ACRE scholars and policy analysts use research and analysis to find solutions for Arkansas's problems. Our research focuses on barriers to employment, taxes and subsidies, k-12 education, and government transparency. We educate and provide resources for students, teachers, voters, activists, legislators, and business leaders.
ACRE promotes solutions that respect the personal and economic freedoms of individuals because protecting and expanding these freedoms has a proven record of improving the lives of people around the world and here at home.
---
Sign up for the ACRE Newsletter: