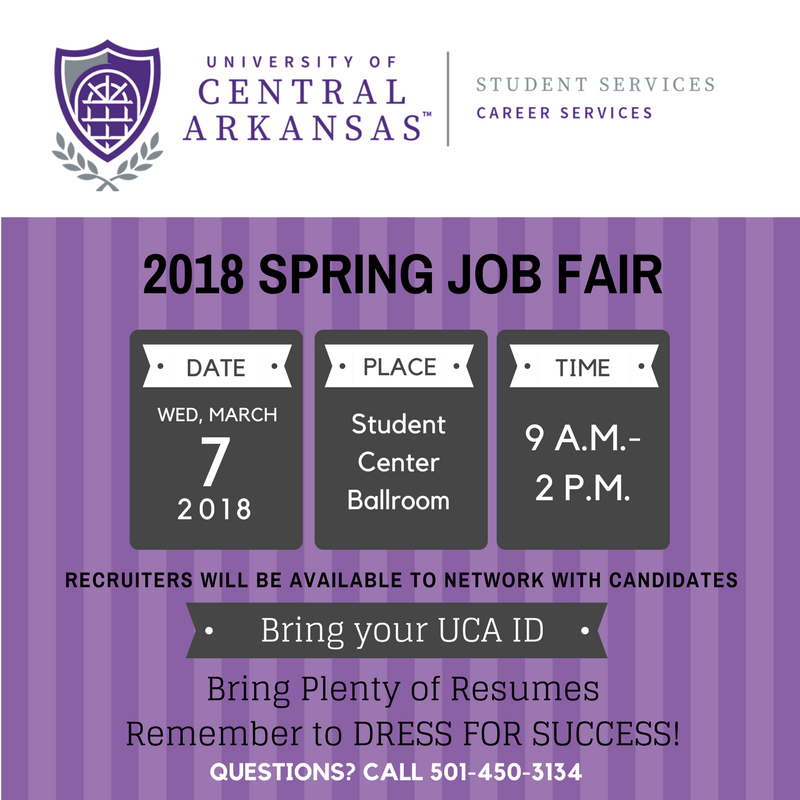 The University of Central Arkansas will host the 2018 Spring Job Fair in the Student Center Ballroom Wednesday, March 7.
From 9 a.m. to 2 p.m., students and alumni can meet with more than 80 organizations seeking interns and part-time and full-time employees. Students are encouraged to wear business clothing and bring their UCA ID. All attendees are encouraged to bring several resumes to distribute to potential employers.
"It's not just companies here in Arkansas. They're from all around," said Marie Smallwood, associate director in the Office of Career Services. "It's a good way to network and to meet people face to face."
To prepare for the 2018 Spring Job Fair, Career Services will also present How to Work a Career Fair workshop from 1:40-2:30 p.m. Feb. 13 and 27 and an International Mock Career Fair at 1:30 p.m. March 1 in Bernard Hall room 311. The office will also host an inaugural Elevator Pitch Competition from 1:40-2:30 p.m. at the student amphitheater on the UCA Campus.
For more information or to register for events, contact Career Services at 501-450-3134.