The Community Development Institute (CDI) began at the University of Central Arkansas in 1987, with the goal of equipping community leaders and economic development professionals with the tools and strategies they needed to create vibrant, successful communities. Thirty years later, CDI is still the go-to resource for training.
For five days each year, professionals from Arkansas and surrounding states come to CDI for applied training in community and economic development. Experienced practitioners provide attendees with practical tools and techniques that they can take back to their communities to make an immediate difference. The CDI experience is a three year training program, with one week of training per year.
While attending CDI, participants learn to:
Identify community assets
Set goals, collaborate, and build partnerships
Bring together diverse groups of people to respond to a broad range of economic and quality of life issues
Other benefits of attending CDI include:
Shared learning experiences and networking opportunities with other community and economic development professionals from Arkansas and surrounding states
Enhanced personal leadership skills
The opportunity to seek a professional certification
Click here to view the CDI history book.
Mission
The mission of CDI is to empower people with the knowledge and skills necessary to proactively improve the physical and human resources of their communities, thereby increasing the quality of life for all citizens.
Governor's Quality Award
UCA's Center for Community and Economic Development was presented with a Governor's Quality Award for Commitment in 2013.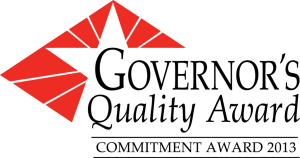 The Commitment Award recognition is provided to organizations that have advanced from the knowledge and skills gained from initial steps in the Governor's Quality Award levels and have a plan to move the organization toward quality improvement to achieve performance excellence and have progressed to a point of potential serious commitment. The Governor's Quality Award was developed to provide an opportunity for all organizations in the state to be recognized for their progress in the journey of performance excellence.