Alpha Sigma Tau's Upsilon Chapter at the University of Central Arkansas, along with two UCA alumnae, were recently honored with national awards of excellence by the sorority.
Awards were announced at Alpha Sigma Tau's 41st National Convention in Jacksonville, Florida, June 23, 2016 through June 26, 2016.
The Upsilon Chapter was recognized with the Membership Excellence Award, which is presented to a collegiate chapter that has exhibited a culture of excellence in membership recruitment and retention. Over the last five years, the Upsilon Chapter has boasted more than a 95% priority and acceptance rate in their first rounds of recruitment. Over the same period, UCA's campus total has increased from 85 members to over 160; and, even with this rapid growth, the chapter is consistently at or above total. Beyond recruitment, the chapter has retained a remarkable 98% of all new members in the last two years.
Additionally, two alumnae were honored with national awards as well:
Brandy Glover Pate was awarded the Carrie W. Staehle Award for her exceptional service to both the Sorority and to her fellow Bears as Upsilon's Chapter Advisor. Cited as the chapter's "biggest cheerleader and fan," Brandy has, in the words of one nominator, "an infectious level of spirit and joy, which makes every encounter with her a positive one, even in the most challenging situations."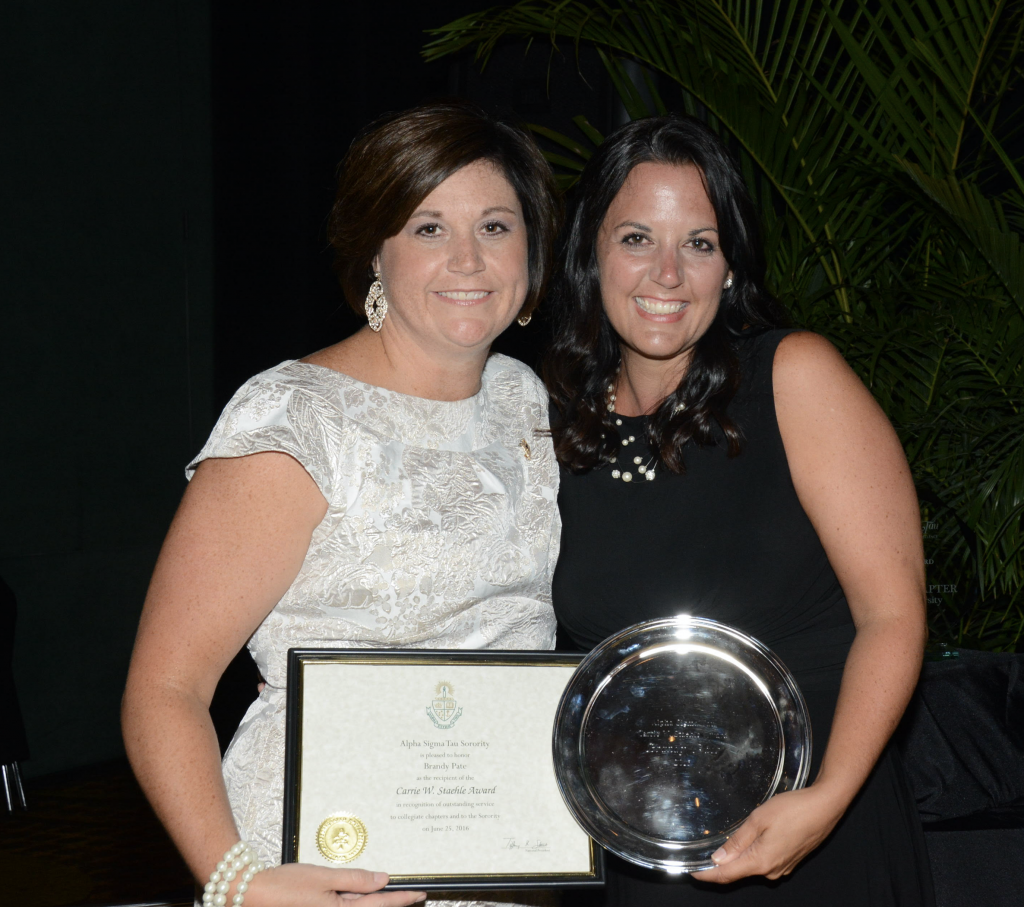 Haley Crafton Fowler was recognized with The Order of the Yellow Rose for her long, faithful service to the Sorority. Cited as the "epitome of class and hard work," Haley's dedication to Alpha Sigma Tau began as a collegiate member, when she served in five different chapter officer positions. Her dedication only increased as an alumna, serving as the Faculty Advisor with Upsilon for almost a decade. She was also recognized for her committed leadership of a large-scale fundraising project, which raised over $150,000 to help the Upsilon Chapter build, upgrade, and furnish their chapter house – which opened this year.
Pate was present to accept her award, along with Chapter President Lauren Morris and Vice President of Member Development Abigail Strickland. Fowler was unable to attend, and Pate was honored to accept the award on her Sister's behalf.
"As these national awards demonstrate, Upsilon stands out as a model chapter in Alpha Sigma Tau," said Tiffany Street, National President. "I was pleased to present these awards to these outstanding women. I think I speak for Alpha Sigma Taus everywhere when I congratulate the women and alumnae of the Upsilon Chapter on their accomplishments."
"I was overwhelmed with gratitude for this award," said Pate. "To serve collegiate women as their Chapter Advisor for past 18 years is truly my blessing and honor. Equally exciting was Haley Fowler's award. To work alongside Haley with the building of our Chapter house was mesmerizing."
At every National Convention, Alpha Sigma Tau honors outstanding individual and chapter accomplishments in a variety of areas. For more information on the awards, including a full list of all recipients, please visit alphasigmatau.org/news-events/ award-winners/convention.