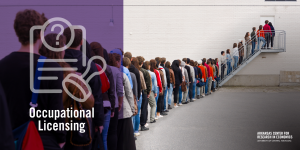 By Caleb Taylor
Should Arkansas eliminate many fee-only licenses?
The 2019 Arkansas Legislature passed Act 600, mandating sunset reviews of every licensed occupation in Arkansas. "Occupational Licensing and Arkansas's Act 600," by ACRE Policy Analyst Alex Kanode discusses the reforms and missed opportunities of the Arkansas Legislative Council's Occupational Licensing Review Subcommittee's first round of sunset reviews. 
In his latest research distillation, "Occupational Licensing: Fee-Only Licenses," Kanode discusses ways Arkansas can reform fee-only licenses.
Arkansas has a large number of regulations restricting what occupations people can work in and which businesses they can start. These regulations may be intended to protect health, safety, and quality for workers and consumers. But some licenses merely charge a fee, with no training or other requirements. 
Kanode writes:
One example of license fees used for other projects is the licensing of motor vehicle salespersons. They're required to pay a $15 license fee to work at new motor vehicle dealerships. These funds are then used to pay for education grants for tech schools in Arkansas. It is in no way the responsibility of new car dealers to fund those programs, and the subcommittee recommended the repeal of that license. 

… 

The subcommittee should continue to consider whether the board's actions fit the health and safety concerns of the profession. They should ask, "What is the purpose of this license?"

The fees themselves surely aren't protecting public health and safety. Removing regulations that tax businesses will be better for Arkansas' economy, and that will help Arkansans in general."
Arkansas legislators passed Act 504 by Rep. Jim Dotson R-Bentonville during the most-recent legislative session. It removed a fee-only license for motor vehicle salespersons.
To find out what recommendations the subcommittee approved unanimously in their final meeting of 2020, you can check out their Final Report to the Arkansas Legislative Council. 
For more on this topic, check out our labor market regulation research page.