By Caleb Taylor
What solutions are available to county officials hoping to stop corruption like the recent case of a former Craighead County Clerk allegedly stealing $1.6 million in taxpayer funds?
Online transparency helps the public guard against cases of fraud, according to ACRE Policy Analyst Joyce Ajayi in "To prevent abuse," published in the Arkansas Democrat-Gazette on August 14.
Craighead County Clerk Kade Holliday resigned in July and was charged with 13 felonies related to theft of public funds — estimated at $1.6 million —after auditors alerted officials to suspicious activity, according to Arkansas Online.
Holliday was charged with 12 counts of felony theft of property and one count of abuse of public trust.
Holliday was elected as county clerk in 2012.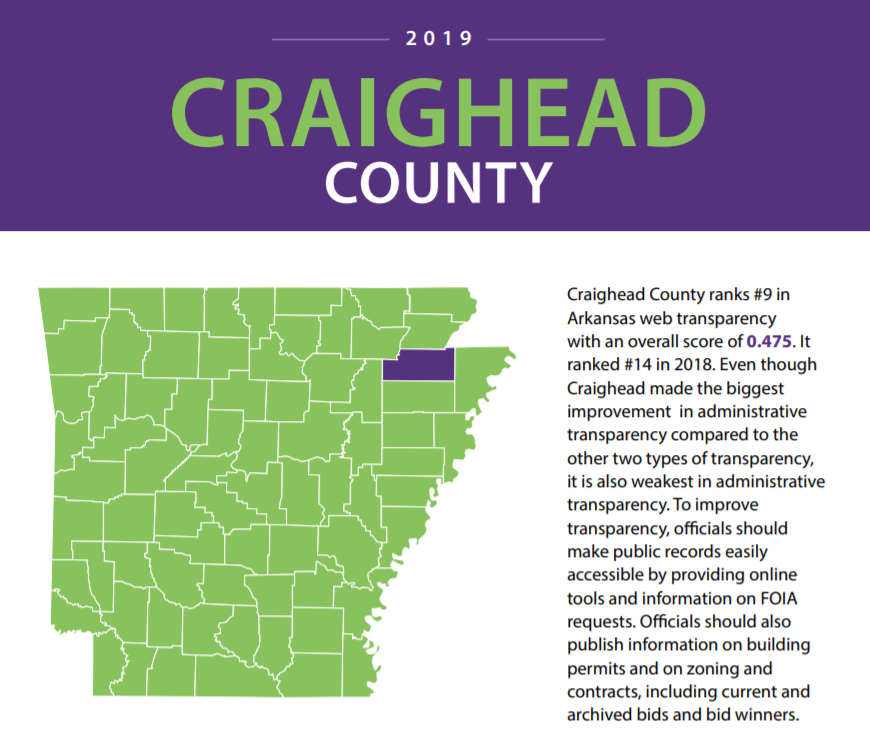 Craighead County ranked ninth in overall online transparency in the second edition of Access Arkansas: County Web Transparency, produced by ACRE Policy Analysts Mavuto Kalulu and Joyce Ajayi, in December 2019.
The index ranks counties on a score from 0 to 1 by combining three types of transparency: fiscal, administrative, and political. Fiscal transparency is the disclosure of financial information. Administrative transparency relates to the openness of government activities and processes, while political transparency relates to the transparency of elected officials and quorum courts.
According to the index, Craighead County publishes online 47.5 percent of the important public information tracked in the index. According to the authors, 67 of the 75 Arkansas counties publish less than 50 percent of this information online.
Ajayi writes:
According to the report, Craighead County ranks No. 9 on the index, not because they did a great job, but because so many other counties are even worse. Craighead County publishes less than half of the important public information tracked in the study. Craighead County is not alone in limited reporting. The report shows that 67 of the 75 Arkansas counties publish less than 50 percent of the requisite information online. An example of information they fail to publish is salaries. Craighead, like most other counties in Arkansas, does not publish elected official salaries online."
Ajayi recommends publishing salaries online to empower residents to more easily track and report corrupt practices like the one alleged in Holliday's case.
Ajayi writes:
Holliday's alleged crime was only discovered after six months through an audit process. 

…

In an article on Governing.com, "Disclosing Public Employee Pay Troubles Some Officials," author Mike Maciag opines that publishing basic salary details of public officials online can act as a deterrent to government corruption and provide the public some oversight. If this happens, members of the public or the press can quickly and easily point out irregularities, like when a public official earning about $68,000 a year makes a public donation of $500,000."
To see more of our work relating to this topic, you can go here.