By Caleb Taylor
Congrats to ACRE Undergraduate Research Fellow and new UCA alumnae Erica Smith for being named economics student of the year by the UCA College of Business!
Smith plans to begin her professional career with a few years working in supply chains and learning about logistics before pursuing a graduate degree. Erica majored in economics while at UCA and is originally from Vilonia.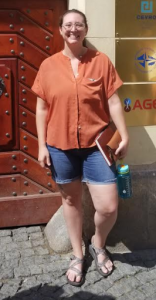 Smith was a part of ACRE's Research Fellowship Program. In this program, students work with a professor or policy expert to write a publishable research paper and an op-ed. 
Smith studied the intersection of economic development incentives and politics in Arkansas.
A new working paper entitled "Do Politicians Use Targeted Economic Incentives for Political Gains? Evidence from Arkansas Gubernatorial Elections" co-authored by Smith, ACRE Affiliated Researcher and UCA Lecturer I of Economics Jacob Bundrick, and UCA Assistant Professor of Economics Dr. Weici Yuan examines the question of whether there's a connection between getting re-elected and which counties get economic development incentives.
Smith is also one of four fellows in ACRE's inaugural summer fellowship program. Over the summer, she and three other UCA alums will continue to work on research with a mentor, participate in an online reading group, and professional development training. She will also continue to be a tutor for econometrics. 
Smith is also a two time recipient of an ACRE travel reimbursement award. She received funding last summer to study the ideas of classical liberalism in Prague and in the fall of 2019 she attended the 2019 O'Neil Center Annual Conference, "Past As Prologue: What History Teaches Us About Today's Economy" in Dallas, TX. 
For more of ACRE researchers' work on targeted economic development incentives, go here.