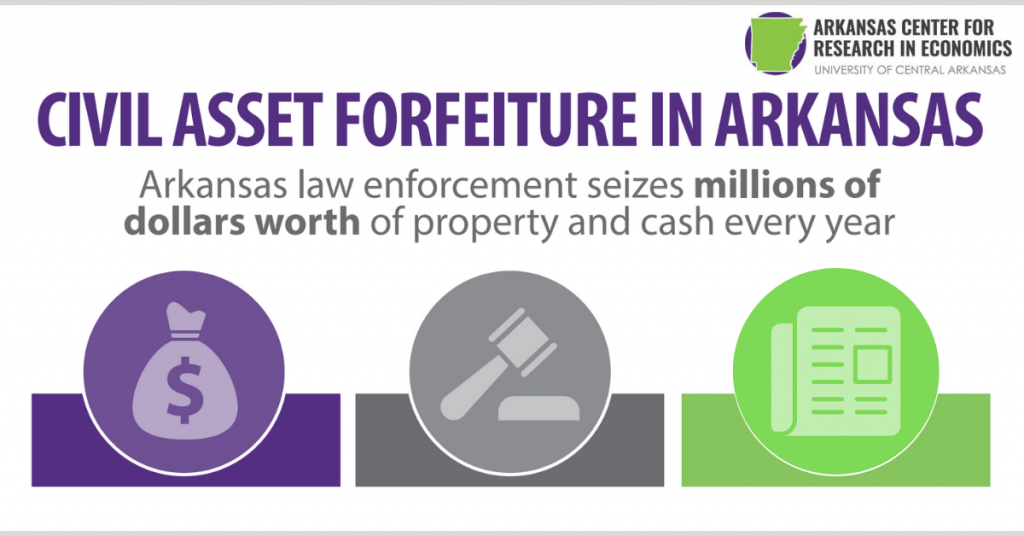 Most people don't realize that police officers can seize and keep the property of individuals even if that person is never convicted of a crime. It's called "civil asset forfeiture," and a new US Supreme Court decision is putting stricter limits on it.
ACRE's database of seizures was started as Maleka Momand's ACRE Research Fellow Project and UCA Schedler Honors College thesis under the supervision of Dr. Jeremy Horpedahl. ACRE research and program assistant Aaron Newell has continued to expand on this work.
UCA assistant professor of economics and ACRE scholar Jeremy Horpedahl explains the impacts on Arkansans, in Eric Besson and John Moritz's Arkansas Democrat-Gazette article, "Officials in Arkansas absorbing justices' decision in forfeiture case."*
"Horpedahl, the UCA professor, called the ruling a "pretty big step," but noted that most cash seizures by law enforcement are less than $1,000.
Horpedahl said his data from 2010-18 includes 9,976 cases in which cash was taken and a dollar amount was listed.
Of those, 51.7 percent were for $1,000 or less and 26.9 percent were for $500 or less, he said. Conversely, there were 15 seizures for $1 million or more, and 32 for $500,000 or more.
Horpedahl said people often lose small-dollar amounts or low-value assets without a criminal conviction because they don't have the means to challenge a forfeiture filing. That underscores the importance of the draft bill by Hester and McCollum, he said.
"If a law like [SB308] were passed or if the law was changed so they did have to have a conviction, it would probably eliminate a lot of those small cash takings," Horpedahl said."
For more of ACRE's work on this issue, you can check out:
Civil Asset Forfeiture in Arkansas summary blog post by Maleka Momand
Guilty Until Proven Innocent: Civil Asset Forfeiture in Arkansas policy brief by Maleka Momand (you can also listen to the audio version of the brief here)
One page infographic on civil asset forfeiture in Arkansas
ACRE also invited Angela Erickson to speak about civil asset forfeiture as part of our distinguished speaker series. Erickson is a former senior research analyst at the Institute for Justice (IJ) and a co-author of Policing for Profit: The Abuse of Civil Asset Forfeiture (2nd ed.) in which Arkansas receives a D-. Her work has been cited by the Obama White House, the U.S. Supreme Court, numerous newspapers including the Washington Post and the Wall Street Journal, and by research published in several academic journals. You can watch her talk on ACRE's YouTube page here.  
*CORRECTION: The original amount reported included a mistake for total cash seized between 2010-2018. The correct numbers for Arkansas law enforcement agencies seizures are nearly $59 million in cash from 2010-18, about $6.5 million per year.