---
Inaugural Sunshine Awards
ACRE Director Dr. Jeremy Horpedahl presented ACRE's first Sunshine Awards to the top ranking Arkansas counties and cities in ACRE's recently released report on local government web transparency, Access Arkansas. "Sunshine" references the U.S. Government in the Sunshine Act. This act, as well as Sunshine legislation in many states, aims to establish transparency in government and reduce corruption. The awards breakfast was held May 30 in the College of Business. Award-winning local governments included the cities of Conway, Fayetteville, and Springdale, as well as Benton, Craighead, and Washington counties. Leaders from each recognized locality shared the influence Access Arkansas has had in motiving their localities' improvement in web transparency, and applauded ACRE's leadership in inspiring local governments to improve and excel. Access Arkansas is published every two years. The next edition of the report and the next round of Sunshine Awards will occur in 2025.
---
Legislative Session Wrap-Up
ACRE's Top 10 Revisited
The Arkansas General Assembly has informally adjourned, meaning that the time to pass new bills is over. They will reconvene in May to formally wrap up the session, but the major action is now concluded.
Prior to the session, ACRE put together a Top 10 List of policy ideas based on our research. And throughout the session, ACRE researchers were watching relevant bills and testifying at the Capitol in Little Rock whenever our research could help inform the debate. So how did our Top 10 List turn out? Read more…
---
ACRE Publications Examine COVID Relief Fund Transparency and Provide a Guide for Local Governments
Coronavirus Relief Fund Reporting: How States are Promoting Transparency
by Dr. Mavuto Kalulu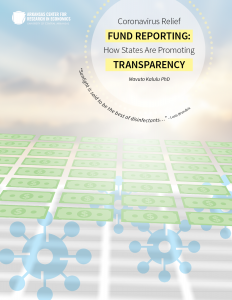 Dr. Kalulu's policy brief examines how various states are ensuring the transparency of COVID-19 Relief Fund expenditures and draws lessons for Arkansas from the more transparent states. Arkansas received $1.25 billion and it is good governance for the state to report residents on how these funds are allocated and expended. The more transparent states provide more detailed information and provide downloadable data on searchable platforms.
COVID Relief Done Right: A Local Government Transparency Guide for Following the One-Time Influx of Funds by
Joyce O. Ajayi and Ashley Philips
Since the outbreak of the COVID-19 pandemic, local governments have received an influx of funds from the United States Treasury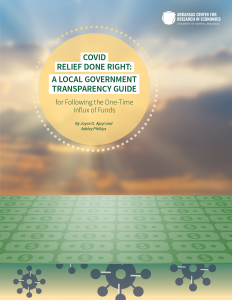 Department to help pay for unexpected eligible expenses and replace lost revenue. Our latest publication, COVID Relief Done Right, authored by ACRE analyst Joyce O. Ajayi and UCA Associate Professor of Accounting Ashley Philips, provides background on the one-time influx of COVID-19 relief funds in Arkansas and a toolkit for local transparency and accountability in the use of these funds, including a web transparency checklist.
---
 ACRE Director Recognized for Societal Impact
UCA College of Business recently announced the winners of its faculty excellence awards. ACRE Director and UCA Associate Professor of Economics Jeremy Horpedahl was awarded the Societal Impact award, for his impact in the past year in the classroom, through his academic research, and through his engagement with the public (such as media appearances, legislative testimony, and social media writings). Read more…
---
---
The Arkansas Center for Research in Economics (ACRE) is an Arkansas focused research center housed in the College of Business at the University of Central Arkansas. ACRE scholars and policy analysts use academic research and original analysis to educate the public on important issues of public policy in Arkansas. Our research focuses on barriers to employment, taxes and spending, targeted incentives, and government transparency. ACRE promotes solutions that respect the personal and economic freedoms of individuals because protecting and expanding these freedoms has a proven record of improving the lives of people around the world and here at home.
---
Sign up for the ACRE Newsletter: