---
The Master of Geographic Information Systems (MGIS) degree is modeled after the online Executive MBA programs which are popular and successful across the country. Both a thesis and a non-thesis option are available. Students who enroll in the Degree will ideally have had previous GIS coursework (having taken at least one GIS course at the undergraduate level) or be currently employed in a position which requires the use of GIS or GIS-based information services (i.e., either a GIS professional seeking greater training or someone who must manage GIS workers or who needs information from a GIS to perform his/her job).
---
Program Requirements: 
In addition to the general requirements for admission to graduate study at UCA, applicants to the Master of GIS degree must meet the following requirements for admission: (1) have achieved an undergraduate GPA of at least 3.00 on a scale of 4.00, (2) have earned a combined Verbal and Quantitative score of at least 290 on the GRE, and (3) have successfully completed at least one college-level GIS course or be currently employed in an agency/business where GIS is frequently used by the applicant. In consultation with the Chair of the Department of Geography, exceptions to item 3 may be considered.
*For more program details and additional admission requirements please request information below.
---
Program Contact: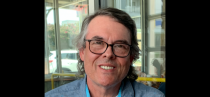 Brooks Pearson, PhD
Associate Professor
Burdick 318C
(501) 450-5639
bpearson@uca.edu
---
CONTACT UCA ONLINE
ucaonline@uca.edu
(501) 852-UCAO (8226)