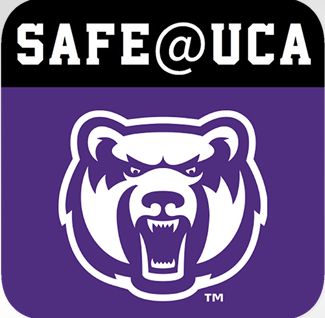 The University of Central Arkansas Police Department, in collaboration with AppArmor, recently launched a new safety app to make UCA an even safer place to live and learn.
The app is called "Safe@UCA," and it is available for free from Apple's app store and Google's Play store. It provides instant access to campus safety resources and adds yet another layer of security to the UCAPD's robust efforts to keep the UCA community safe.
"Campus safety is our top priority," said UCAPD Chief John Merguie. "Safe@UCA is an integral part of our efforts to stay on the cutting-edge when it comes to connecting with and protecting our campus community–students, parents, faculty and staff, and visitors to campus. Users can quickly and easily do a handful of important things, like report a crime or Title IX tip, chat with or text UCAPD and access all of UCA's emergency plans."
Other key features include Friend Walk, which allows users to send their location in real-time to a friend, who can then ensure they reach their destination safely; a quick and easy way to summon the Bear Patrol Safety Escort, should anyone on campus need a ride after dark from the student-driven golf cart service; and a Mobile Blue Light, which allows users to send their location to UCAPD and chat in real-time with communications personnel. The app will also send important safety alerts in the event of an emergency.
"Safe@UCA is a user-friendly, proactive app that streamlines our emergency communications and puts all of our safety and security information in one place," said UCA President Houston Davis. "We hope that all of our students, faculty and staff will download it and learn to use it. This will help us be as prepared as possible for any safety or security concern on campus."
To learn more and download the app, visit https://uca.edu/police/safeuca-app/.