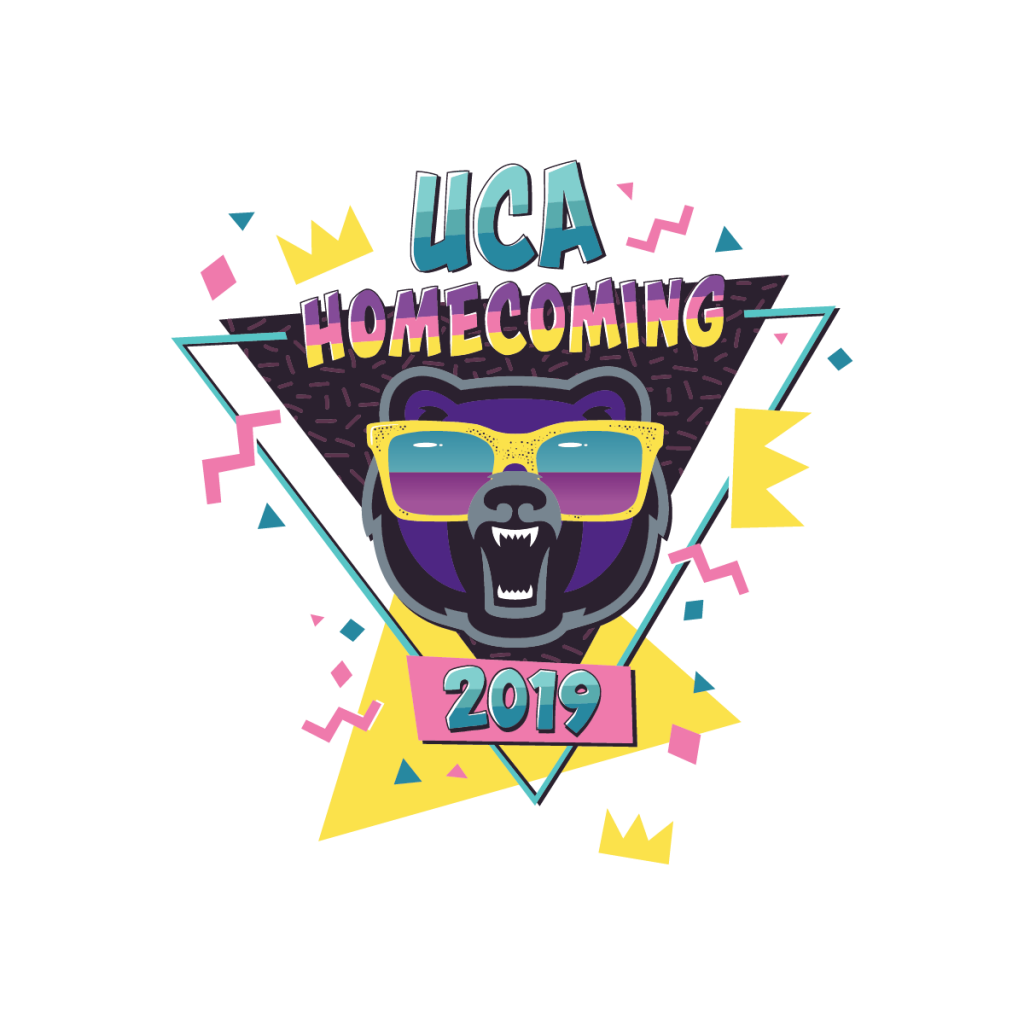 The University of Central Arkansas will celebrate Homecoming 2019 Oct. 21-26. This year's homecoming theme is the '90s.
UCA Homecoming 2019 is presented by Conway Regional Health System.
This year, two alumni will be honored with the Alumni Service Award and Young Alumni Award during the Alumni and Friends Party presented by Cousins Office Furniture on Friday, Oct. 25 at 7 p.m. at the Centennial Events Center. Brandy Pate '98 will be honored as the Alumni Service Award recipient and Spencer Gordy '07 will be honored as the Young Alumni Award recipient.
Other notable events include the Bear Bash, Greek Step Show, parade, coronation and the inaugural Big Bear Classic cycling event. The week culminates with a football game between the Central Arkansas Bears and Sam Houston State.
To RSVP or purchase tickets and to see a complete schedule of events, visit uca.edu/alumni/homecoming/.
A partial list of events is included below:
Monday, Oct. 21
Fall Fest
noon to 6 p.m.
Parking lot east of the HPER
Tuesday, Oct. 22
Student Pep Rally
7 p.m.
Farris Center
Wednesday, Oct. 23
Taj Express Performance
7:30 p.m.
Reynolds Performance Hall
Thursday, Oct. 24
Young Alumni Night
6-8 p.m.
Fassler Hall
311 E. Capitol Ave.
Little Rock
UCA Volleyball vs. SFA (Pack the Prince/'90's night)
6 p.m.
Prince Center
Friday, Oct. 25
Alumni & Friends Party
7 p.m.
Centennial Events Center
Homecoming Greek Step Show
7 p.m.
Farris Center
Saturday, Oct. 26
Big Bear Classic cycling event
7:30-9 a.m.
Donaghey Hall at the corner of Bruce and Donaghey
Decades Brunch featuring Half-Century Club Induction
10 a.m.
McCastlain Hall
UCA Volleyball vs. Abilene Christian (Military Appreciation Day)
Noon
Prince Center
Bear Bash
2-5 p.m.
Crafton Alumni Pavilion
Homecoming Coronation Parade
3:30 p.m.
Bruce Street
Football Game: UCA Bears vs. Sam Houston State
6 p.m.
Estes Stadium
Sunday, Oct. 27
Jersey Boys
7:30 p.m.
Reynolds Performance Hall