News
Check back for the most up to date news!
A message from Jacob Christie, HPaW@Baridon Academic Director ~
After tallying the total weight from the food drive (thank you Will and your wonderful crew at the BEFP), we ended up collecting a grand total of 1,325 pounds (!!) for the HPaW Spring 2023 Bear Essentials Food Pantry Food Drive!
A big, big thank you to all that CHBS does for the UCA community, to Will Baker and the efforts of those at the BEFP, Marcus and Cort for your helping moving donations, and to Will, Laura, and Ronnie for helping keep our HPaW students informed about the effects of food insecurity. Pictures of the event are attached below. Look at the hard work of these CHBS students!
As it stands, the School of Nursing is the big winner for 2023! You will get your name etched into our Golden Bear Plaque for all to see and those delicious (no pun intended) bragging rights!
Many thanks to you all and go Bears!
-Jacob
The Bear Essentials Food Pantry will be closed during UCA's Spring Break March 20 – 24, 2023. The Pantry will be open regular hours this week and will reopen on Monday, March 27th at 11 am.  Please refer to the list and website of other local resources on our home page of this website.  If you do experience food insecurity while we are closed, please contact your RA or RAC on duty for assistance.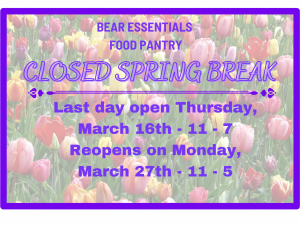 The Bear Essentials Food Pantry will be open from 11 – 4:30 on January 11th & 12th.  We will be closed Friday, January 13th.  In observance of Martin Luther King, Jr. Day, we will also be closed on Monday, January 16th.  The regular semester open hours will start on Tuesday, January 17th: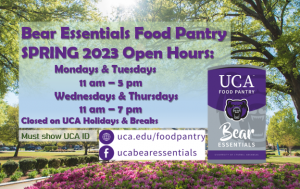 The Bear Essentials Food Pantry open hours will be 11 am – 4:30 pm next Monday through Thursday, 12/12 – 12/15 – Finals Week.  We are closing at 4:30 pm the week of finals so our volunteers can study!
The Pantry will be closed 12/16/22 through 1/3/23 during UCA's Winter Break. We will reopen on Wednesday, 1/4/23 at 11 am.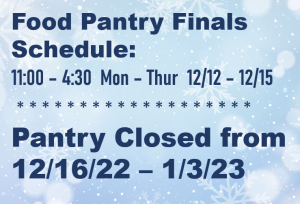 Facebook: https://www.facebook.com/ucabearessentials
Instagram: https://www.instagram.com/bearessentialsfoodpantry/
Email: bearessentials@uca.edu
Gather non-perishable items and deliver to the Bear Essentials Food Pantry to be weighed Thursday, October 27 between 11 am and 4 pm.  Winners will be announced in the following categories: Recognized Student Organization, Non-Academic Office/Department, and Academic Office/Department.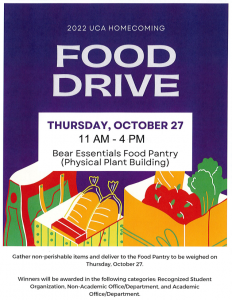 Thank you for your support of UCA's Food Pantry — Bears feeding Bears!