News
Check back for the most up to date news!
Gather non-perishable items and deliver to the Bear Essentials Food Pantry to be weighed Thursday, October 27 between 11 am and 4 pm.  Winners will be announced in the following categories: Recognized Student Organization, Non-Academic Office/Department, and Academic Office/Department.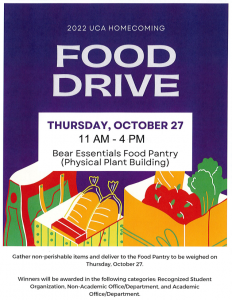 Thank you for your support of UCA's Food Pantry — Bears feeding Bears!
The Bear Essentials Food Pantry is closed for UCA's Fall Break, 10/20 & 10/21, but will resume regular hours on Monday, 10/24. If you ever need food assistance during our closed times, please refer to this website of Conway AR Food Pantries: https://www.foodpantries.org/ci/ar-conway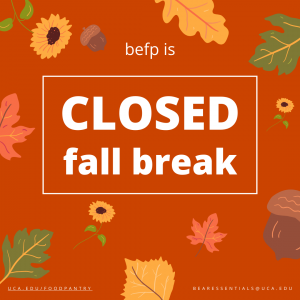 The Bear Essentials Food Pantry will be closed Monday, 9/5, for Labor Day.  We will reopen on Tuesday, 9/6 with our Fall Semester Open Hours of 11 – 5 Mon & Tues, and 11 – 7 Wed & Thurs.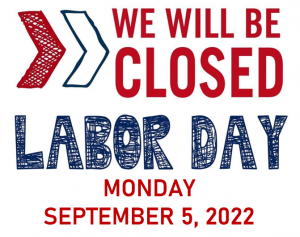 Facebook: https://www.facebook.com/ucabearessentials
Instagram: https://www.instagram.com/bearessentialsfoodpantry/
Email: bearessentials@uca.edu
During this transitional time from end of summer to the start of classes, the Bear Essentials Food Pantry will be open Monday through Thursdays, from 11 am – 4 pm.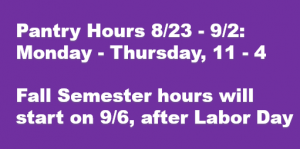 We will be closed for Labor Day on Monday, September 5, 2022.
Our Fall Semester Open hours will start on Tuesday, September 6th.  These hours will be posted before that date.
The ladies of AKA will be hosting a food drive at 10Box Conway from 10 – 2 on Saturday, 2/12/22.