News
Check back for the most up to date news!
Thank you to all who participated and CONGRATULATIONS to our winners!
THE OFFICIAL RESULTS OF THE 2021 HOMECOMING BEAR ESSENTIALS FOOD DRIVE ARE BELOW:
DEPARTMENT WINNER – ATHLETICS – 854 ITEMS DONATED/646.4 POUNDS
RSO WINNER – IVORIAN STUDENT ASSOCIATION – 100 ITEMS DONATED/109.0 POUNDS
GREEK WINNER – SIGMA KAPPA SORORITY – 160 ITEMS DONATED/113.3 POUNDS
THE TOTAL NUMBER OF ITEMS DONATED IN A 4 HOUR PERIOD BY 10 GROUPS WAS 1,808
THE TOTAL NUMBER OF POUNDS DONATED IN A 4 HOUR PERIOD BY 10 GROUPS WAS 1.468.2″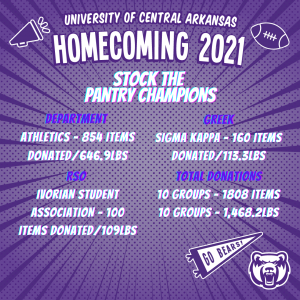 Thank you to Tajaro Hudson for compiling theses statistics.  The Bear Essentials Food Pantry team is truly thankful for all the Bears Feeding Bears!
A big thank you to the Green Grove Masonic Lodge # 107 F. & A.M. for adopting the Bear Essentials Food Pantry as their charity of the year! They will donate over $3,000.00 by November 30, 2021.
On September 23rd lodge representatives Fred Dison (front row, right) and Shad Foley (second row, right) presented a $1,000 check to the pantry staff and volunteers. This was followed by another $1,000.00 donation on October 15. They have also agreed to sponsor our annual turkey/ham giveaway for the Thanksgiving holiday.
Their help could not have come at a better time. The number of students visiting the pantry has doubled in the past few weeks. 340 individuals visited the pantry in the month of September. 95 of them were new shoppers and we anticipate that our numbers will continue to grow.
We sincerely appreciate the members of the Green Grove Masonic Lodge for the generous support. Member Shad Foley is an officer with the UCA Police Department. We are grateful for his dedication to our UCA students to protect, serve and feed.
What better way to celebrate homecoming than to STOCK THE FOOD PANTRY!? Donate food items to the Bear Essentials Food Pantry (located in the physical plant) on Thursday November 4th from 12:00PM – 4:30PM for your chance to win one of the three floating trophies for RSO's, Greek Life or Departments. If you have any questions or concerns, contact Tajaro Hudson at thudson4@uca.edu.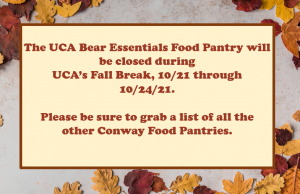 The UCA Bear Essentials Food Pantry will be closed for UCA's Fall Break Thursday, October 21 through Sunday, October 24, 2021.  The Pantry will return to its regular Fall Semester 2021 hours on Monday, October 25, 2021, as posted on our home page.
If you ever need food assistance during our closed times, please check out this list of Conway AR Food Pantries | Conway Arkansas Food Pantries, Food Banks, Soup Kitchens.
Please email us at bearessentials@uca.edu if you have any questions.  And follow us on our Facebook page and on our Instagram page!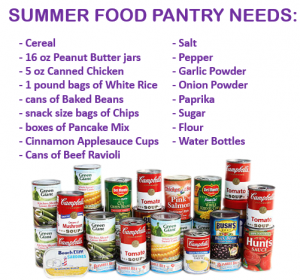 Please drop non-perishable items in the drop box outside the Pantry.  Please bring perishable donations to the Food Pantry during Summer Open Hours — Monday – Thursday, 11 am – 4:30 pm.  If you cannot come by during open hours, please contact  Tracy McGarrity at 450-3416 or tracym@uca.edu.
Thank you for donating to the UCA Bear Essentials Food Pantry!
The Food Pantry will return to normal Spring Semester open hours on Monday, March 29, 2021.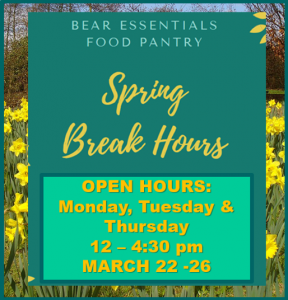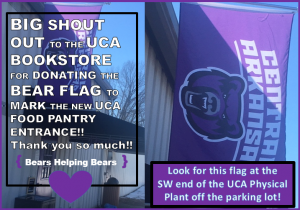 When the Food Pantry reopened in its new larger facility at the Physical Plant in January 2021, the team soon realized it would not be an easy place to find.  The black awning that reads Bear Essentials Food Pantry blends in with the other awnings on the west side of the Physical Plant.  So, we asked the UCA Bookstore for the purple bear flag and they donated it to the Pantry.  Now everyone can see the purple bear flag marking the location from the street!  A BIG BEAR GROWL goes out to the UCA Bookstore for their generosity!