Bear Essential Food Pantry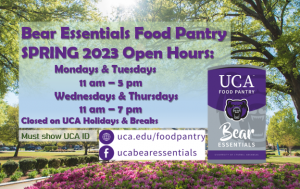 Here is a pdf list of Local Food Banks for your reference: Local Food Banks
Please stay tuned to this web page and our Facebook page for any changes to our hours of operation.  If you ever need food assistance during our closed times, please check out this website of Conway AR Food Pantries | Conway Arkansas Food Pantries, Food Banks, Soup Kitchens.
Serving registered students, staff and faculty since 2014.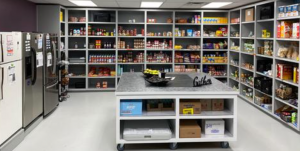 The food pantry strives to keep the following items in stock.
There also may be other items, such as canned vegetables, personal hygiene items, and additional food items when available.
If you need additional information you can contact our Food Pantry Coordinator Will Baker at bearessentials@uca.edu
The UCA Bear Essentials Food Pantry is a member (#149) of the College and University Food Bank Alliance (CUFBA). CUFBA is a professional organization consisting of campus-based programs focused on alleviating food insecurity, hunger, and poverty among college and university students in the United States. www.cufba.org